Browns fan creates Johnny Manziel beer, calls it 'Johnny Man'z Ale'
How do you make Johnny Manziel into a beer? By doing what this Browns fan did.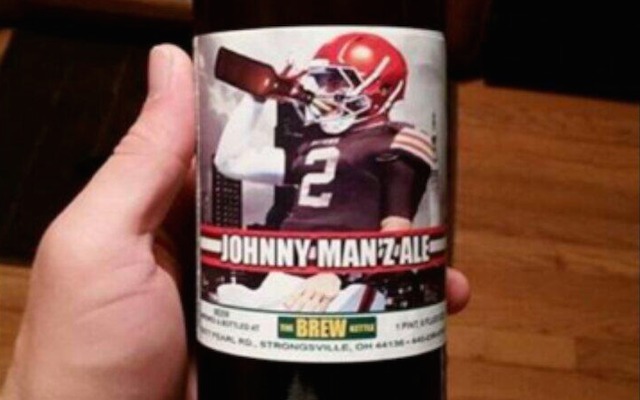 Johnny Manziel doesn't have an official beer yet, but he might soon. A Browns fan in Ohio decided to pay homage to the team's newest quarterback by making a beer and naming it after Johnny Football. 
Ladies and gentleman, I give you 'Johnny Man'z Ale.' (Is Blake Beertles next?) 
@darrenrovell We all have Johnny Cleveland mania (The Brew Kettle in Strongsville, Ohio) pic.twitter.com/sx8usrg6Xa

— Dave Robison (@Dave_Robison) May 20, 2014
Apparently, the guy brewed his own beer at a brewery that allows you to create your own labels for your newly brewed beer.
However, what that brewery doesn't have is a trademark office on site, so this brilliant beer name has yet to be trademarked. It's only $159 if you want to apply for the trademark.
Just remember though, if you get the trademark, there's a zero percent chance that the NFL will let you use the Browns logo and there's also a minuscule chance that you'll be allowed to use Manziel's face. Although he might let you if you promise him free Man'z Ale for life. 
Show Comments
Hide Comments
NFL teams find out their schedule on the same day you do

There probably weren't too many complaints in Kansas City after the schedule was released

Glen Coffee is hoping to make an improbable NFL comeback
Geography can be hard sometimes

Hernandez appears to have left suicide notes for at least three different people

Beast Mode and the Raiders apparently don't see eye to eye on this one thing