Browns frustrated with no news on possible Josh Gordon suspension
We still don't know for how long Browns receiver Josh Gordon will be suspended.
• 1 min read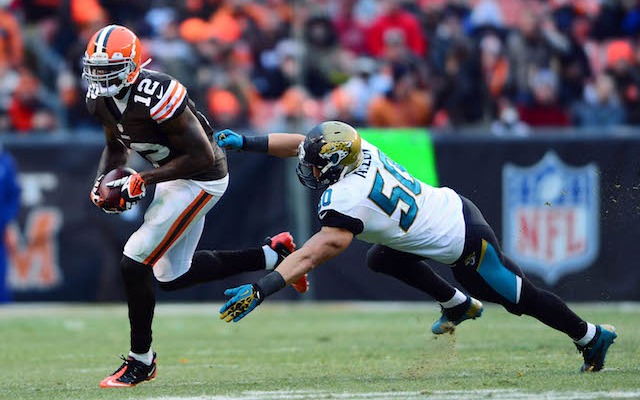 More NFL offseason: League minicamp dates | Latest news, notes
We still don't know how long Browns receiver Josh Gordon will be suspended, and considering it's been about a month since word got out that Gordon had failed another drug test and could be lost for the entire 2014 season, it has to be annoying for the Browns to still not know his fate. And their own fate.
Cleveland coach Mike Pettine confirmed as much when speaking to 92.3 The Fan on Tuesday.
"There's certainly a level of frustration because we've known the news for so long," Pettine told the radio station, via the Cleveland Plain Dealer. "It's just a holding pattern and I understand that the league has a process that they have to go through and there's other things that they're dealing with and we respect that. But at the same time it is difficult because it really will affect our preparation for the season ... We're prepared for all of the eventualities, but the waiting is difficult."
Also frustrating for Pettine: his perception that Gordon isn't giving his all on every play in practice.
"It is something we've talked about and from what I understand he's made some improvement, but it is a work in progress," Pettine said. "I'm a big believer in quality of reps versus quantity of reps. If I'm a player and I know that I'm going to be out there for 40 full-speed team snaps, I may have a tendency to pace myself.
"There still needs to be improvement there but we're aware of it."
It's hard to argue with Gordon's results (he led the league with 1,646 receiving yards last season, despite a two-game suspension to start the year). But this also isn't the first time Gordon has heard questions about his work ethic.
"(As for) loafing, I mean certain people see different things when they look at me run or look at me move," Gordon said last August. "It might look slow because I'm a little bit larger to play at my position. So it might be a little bit deceptive, hard to look at it. It looks like, compared to everybody else, a little bit shorter strides, shorter movements, but I go out here 100 percent every day I come out here."
Unfortunately for Gordon, it sounds like his coach slightly disagrees.
Show Comments
Hide Comments
These 11 players could have a Dwight Freeney-type impact for the right team

Last week, Mark Davis revealed that he had refunded and re-sold about 1,000 tickets

Vick's legacy with the franchise that drafted him remains complicated
Navy SEAL Kyle Milliken, who died during a raid in Somalia, met Brady at Gillette Stadium in...

Cowboys fans will probably disagree with Claiborne's statement

'I want to score a lot of touchdowns. I want to see a lot of celebrations,' Harbaugh said