Browns name Jason Campbell their Week 8 starting quarterback
Jason Campbell was named the Browns Week 8 starter by Rob Chudzinski on Wednesday, effectively shutting the door on the Brandon Weeden era.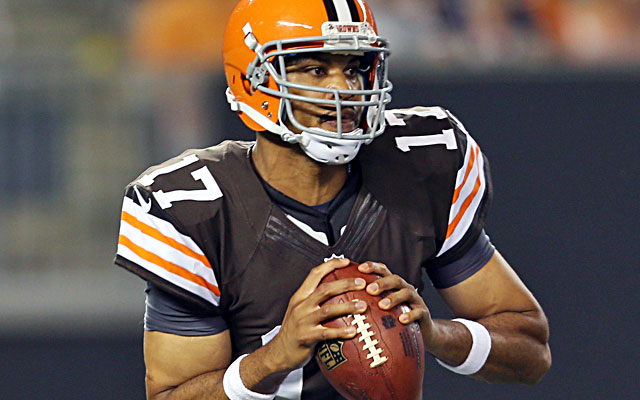 Brandon Weeden's run in Cleveland looks to be over. After a disastrous Week 7 performance, the Browns are going forward with Jason Campbell as their starter, Rob Chudzinski announced on Wednesday.
Campbell was initially thought to be Weeden's backup but Brian Hoyer jumped him on the depth chart when Weeden suffered a lacerated finger early in the season. Now Weeden's recent struggles have opened the door for Campbell again
"He's been productive, leadership, gives us best chance," Chudzinski said.
Translation: "I'm sick of watching Weeden throw underhanded interceptions." Weeden threw what might've been the single-worst pass in NFL history two weeks ago to seal the Browns fate against the Lions in Week 6.
And he followed that up with an abysmal performance against the Packers Sunday, completing just 17 of 42 passing attempts for 149 yards (3.55 YPA, ugh), one interception and one touchdown.
Campbell's not the solution in Cleveland but he's better than the biggest problem. That problem is fact that Campbell will be the 20th starting quarterback for the Browns since 1999.
Weeden, a first round pick in 2011, is probably officially finished in Cleveland now, barring an injury -- or other circumstances -- that force him back in the lineup.
The first test for Campbell -- a former first-round pick in Washington who's become a journeyman at this point in his career -- won't be an easy one: He'll square off against the Chiefs in Week 8 at Arrowhead.
Show Comments
Hide Comments
Our Latest Stories
We're pretty sure Jerry Jones is glad he didn't overpay for Paxton Lynch

The Cowboys rookie has been even better than could have been expected filling in for Tony...

Here are all the biggest stories from a wild Week 3, including the Eagles' pasting of the...
Elliott showed off his track-and-field skills on a sweet run

The injury looked much worse when it occured

Elway dusts off his Twitter fingers to respond to someone that had questioned the draft pi...