Browns owner Haslam confirms team went after Jim Harbaugh
Browns owner Jimmy Haslam confirmed that his team went after Jim Harbaugh. Haslam said on Sunday that the Browns had an opportunity, but 'it didn't materialize.'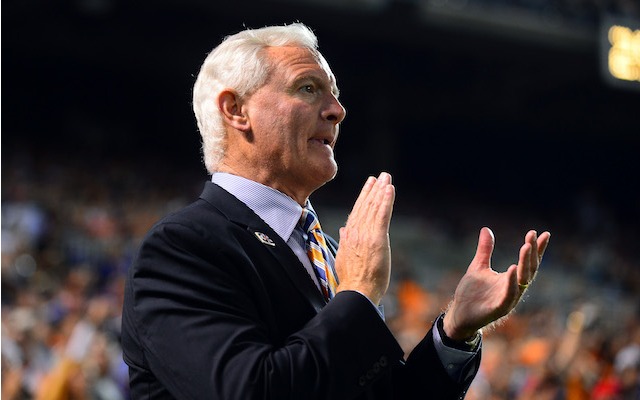 The biggest question to come out of the NFL combine so far has nothing to do with the NFL combine; it has to do with 49ers coach Jim Harbaugh. That question: Did San Francisco almost trade Harbaugh to the Cleveland Browns? Apparently, it depends on whom you ask.
San Francisco 49ers CEO Jed York issued a stern denial Friday, calling the report untrue. York may want to get on the phone with Browns owner Jimmy Haslam though because Haslam has a different story. The Browns owner confirmed Sunday that his team went after Harbaugh.  
"There was an opportunity there and it didn't materialize," Haslam told USA Today. That's all Haslam had to say on the subject, but that's all he needed to say. He confirmed there were at least talks on Cleveland's part to obtain Harbaugh. 
The situation gets even more interesting when you look back on a press conference Harbaugh held on Jan. 21 when he was actually asked about Cleveland. 
Reporter: Can you say if the Browns have contacted you about anyone on your staff?

Harbaugh: I've had conversations with the Browns.

Reporter: You have?

Harbaugh: Yeah.

Reporter: Regarding?

Harbaugh: Regarding our coaches, yes.

Reporter: So that's a possibility as far as that opening?

Harbaugh: Yeah, there are possibilities.

Reporter: Is it just one? There was a report about defensive line coach Jim Tomsula. Is he the one or are there others that the Browns have asked about?

Harbaugh: Again, you start talking about other people's jobs -- that's their situation. You asked me if I've talked to anybody about our coaches, yes. Going into any further detail -- I don't think it helps our situation, their situation. Their search is their search.
At the time, the thought was that Harbaugh was talking about Cleveland's interest in 49ers offensive coordinator Greg Roman, defensive coordinator Vic Fangio or Tomsula. But it's not a total reach to assume he was talking about himself. Obviously, no one at the press conference would have known that except for Harbaugh. The Browns didn't end up interviewing Tomsula, Roman or Fangio. 
It's also worth noting the timeline here. The 49ers were eliminated from the playoffs on Jan. 19. Harbaugh's press conference was on Jan. 21 and news of a Browns mystery candidate emerged Jan. 22. The mystery candidate was supposedly Greg Schiano, but maybe Schiano was just a red herring so no one would find out about Harbaugh. New Browns coach Mike Pettine was hired on Jan. 23. 
For his part, Harbaugh doesn't seem to agree with Haslam's version of events, Harbaugh said on Saturday he never talked to the Browns about becoming their coach, "For the record, I echo Jed York's comment … 'isn't true.' I know nothing about a trade with the Cleveland Browns and us involving me," Harbaugh said. 
Show Comments
Hide Comments
The Cardinals, however, don't sound enthused about his return

According to NFL Network's Michael Silver, the Browns might want to trade up to draft a franchise...

The projected top-20 pick could fall out of the draft with teams having little time to gather...
Bryant will have his progress reviewed again before the coming season

From Jadeveon Clowney to Odell Beckham, here's the option year prognosis for each 2014 first-round...

Gruden's team took Cadillac Williams instead of Rodgers in the 2005 NFL Draft