Browns QB Brian Hoyer: 'I want to make a difference in this program'
Brian Hoyer is looking to keep Johnny Manziel in the backup quarterback role.
• 2 min read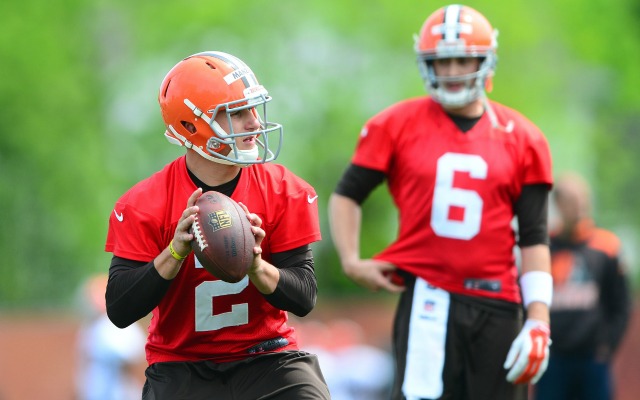 A few weeks into his pro career, Browns rookie quarterback Johnny Manziel has been humbled, and the team has made it clear that the starting quarterback job belongs to Brian Hoyer for now.
And if Hoyer has his way, that starting quarterback job won't be available to anybody else anytime soon.
"I think -- and everyone else has made it clear -- that [they're] not going to be just kind of pushing me aside," Hoyer said, via the Akron Beacon Journal. "So I knew, even going back to last summer, that this was the place that I wanted to be and it ended up working out and I got back here, and then I got a chance to play.
"This is my hometown. This is where my family's from. This is where I want to make a difference in this program and this organization. I'll never shy away from competition, and it's something I had prepared myself for. I didn't know who it would be. It was almost a sense of relief when [Manziel] was drafted, because I knew exactly right then and there what it was going to be."
Manziel is coming off the team's rookie mini-camp where he said, "I'm a rookie. I need to earn my place. I need to earn my keep. I don't need to be treated based off what I did in the past because that doesn't mean a thing at this level. I was completely OK with hearing that from everybody. I don't want to come in and have anything handed to me that I don't deserve."
Browns general manager Ray Farmer said this week that Hoyer is the better quarterback "by a substantial margin," and if you look at what Hoyer accomplished last year, that makes sense. In three games, Hoyer led the Browns to three wins with a quarterback rating of 82.6 before he tore his ACL. More importantly, he gave the franchise hope after it had suffered through less than two seasons of the Brandon Weeden era.
Maybe it's not altogether believable that Hoyer will hold off Manziel for the long-term, but the team, for whatever reason, is trying to create that narrative this offseason.
"It's always nice for those guys to say those things, but I know when it comes down to it, what matters is what takes place out on this field," Hoyer said. "... I don't need to be handed anything. We've made it clear it's going to be a competition and what those guys have said is pretty much what has been said to me, so I really don't make too much of it."
Show Comments
Hide Comments
Police in the Bay Area aren't happy with Colin Kaepernick

49ers fans are now protesting Kaepernick's protest

It's not known if that's the reason for the trade
Kaepernick is receiving all sorts of reactions after refusing to stand for the national an...

Follow the roster cuts of every team as they trim to 75 players before Tuesday's 4 p.m. ET...

The Republican presidential candidate has some not-so-friendly advice for Colin Kaepernick