Browns QB Brian Hoyer suffers knee injury; torn ligament?
Browns quarterback Brian Hoyer injured his knee in the first quarter of Thursday night's game against Buffalo and his return is questionable.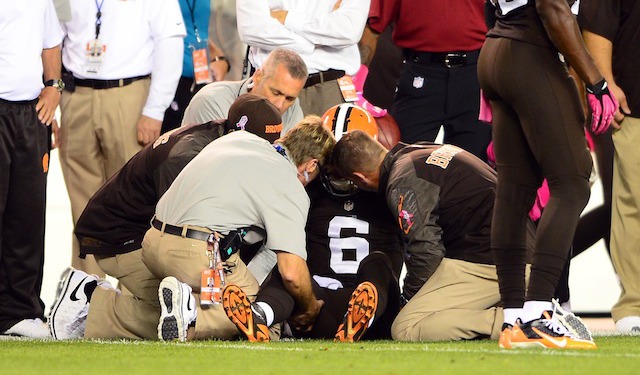 The worst-case scenario might be happening for the resurgent Cleveland Browns. Quarterback Brian Hoyer left the game against the Bills on Thursday after suffering a knee injury in the first quarter. The Browns announced that Hoyer won't return to the game. 
Cleveland coach Rob Chudzinski told NFL Network at halftime that the he's fearful Hoyer may have torn a ligament in his right knee. Hoyer will have an MRI on Friday. 
The injury happened when Hoyer scrambled for 11-yards on a second-and-9 play that ended with an awkward slide. Hoyer's right knee got caught under his body and it help that he took a pretty hard hit from Bills linebacker Kiko Alonso. 
The Browns backup is Brandon Weeden and he entered the game with 11:13 left in the first quarter. 
Cleveland has been on fire since Hoyer took over as the team's starter in Week 3. The Browns have averaged 24 points per game since Hoyer took over as starter. Under Weeden, the Browns only averaged eight points per game.
Hoyer has thrown for 590 yards and five touchdowns in Browns wins over Minnesota and Cincinnati. Hoyer was given the starting job after Weeden injured his thumb late in the game during Cleveland's Week 2 loss to Baltimore. 
Show Comments
Hide Comments
The Packers running back is having second thoughts about his long hair

The Cowboys will once again be without their starting quarterback for an extended period of...

The Patriots not only have a guy who can win with Brady out, but should go 3-1 in his abse...
It sure seems like Fisher is leaning toward Case Keenum over Jared Goff to start the year

The Steelers' defensive end says he heals like a superhero and vows to be back for the ope...

Newton's Panthers scored on only one of the 10 drives he led during their third preseason...