Browns sign K Billy Cundiff
On Tuesday, the Browns' kicker position was finally filled; the team signed veteran Billy Cundiff, the team announced.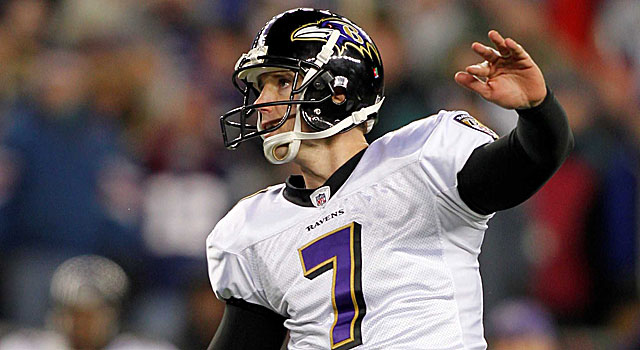 It was somewhat peculiar when, over the weekend, three teams (the Redskins, Jets and Raiders) kept four quarterbacks on their 53-man rosters. Even more puzzling: Why the Browns would cut two kickers leaving them with a grand total of none with the regular season eight days away.
On Tuesday, the position was finally filled; the Browns signed veteran Billy Cundiff, the team announced.
The team also worked out Giorgio Tavecchio, who was recently cut by the Packers.
Cundiff is a former Pro Bowler who has spent time with 13 NFL teams. In 2011, he set the NFL record for most touchbacks in a season, but he'll likely be best remembered for honking a game-tying 32-yard field in the Jan. 2012 AFC Championship Game against the Patriots.
As for why the Browns were so deliberate in finding a kicker, coach Rob Chudzinski explained that "We weren't completely satisfied" with either Shayne Graham or Brandon Bogotay.
It still doesn't explain the organization's rush to dump both kickers with the regular season just around the corner. Then again, maybe having someone on the roster who can convert field goals and extra points isn't necessarily high on the priority list for an organization that has averaged 4.6 wins a year since 2008.
Kelly is the latest ex-49ers coach to speak up for the controversial QB

There are 12 NFL teams that currently have a Super Bowl drought of more than 20 seasons

Derek Carr is the clear-cut top quarterback, but what about Blake Bortles and Teddy Bridge...
Williams is currently a free agent

Eight members of the Cowboys' defensive front-seven have been suspended since 2015

After being scammed, Portis contemplated murder until his friend dissuaded him