Browns training camp: Guess who's dominating the QB competition so far?
Johnny Manziel may be the star off the field, but Brian Hoyer is the star QB on it so far in training camp.
• 14 min read
More NFL: Photos |  Videos & GIFs |  Training Camp updates | Manziel watch
BEREA, Ohio  -- Brian Hoyer is considerably faster, and more nimble, than Johnny Manziel.
No, that is not a misprint.
 The veteran journeyman, coming off an ACL surgery and trying to retain his job as the starting quarterback of the Cleveland Browns, is quicker than Johnny Friggin Football, record-setting college football dervish who is in the first week of his first training camp. Now, Hoyer, a more competent athlete than some assume, couldn't beat Manziel in a footrace, and he can't come close to some of the eye-popping improvisational moves that the kid makes look easy in practice. But when it comes to breaking a huddle, calling a play with conviction, setting players in motion, checking protection schemes, reading a defense and running through his progression and making an astute decision with the football, he is operating at a pace that Manziel cannot replicate.
Mentally, in speed of thought, this isn't much of a contest right now. There is in fact, a noticeable difference.
All of that, combined with Hoyer's sterling stint with the Browns last season, his superior experience, his steady hand, and maturity, will result in him being the opening day starter. Yes, it's early in camp, and nary a preseason snap has been taken, but based on everything I've heard talking to people here and also from what I've seen, there is every reason to expect Hoyer to keep his job.
 I'd expect coordinator Kyle Shanahan to find ways to get Manziel on the field in situations where his athletic traits dictate it (third-and-short, goalline, etc), but this has always been Hoyer's job to lose, at least at the onset, and barring injury he won't relinquish it.
"I always felt like at some point I would come back and I earned the guys' respect in that locker room," said Hoyer, in the second year of a two-year deal making $1M in 2014. "Now I just have to keep going back our and proving it again and just pick things up where I left them off."
Hoyer's physical recovery from the ACL has continued to wow the Browns, and he doesn't seem to be hindered mentally by it, either, or gun-shy about contact around the right knee ("I don't even think about it when I'm out there," Hoyer said). This new offensive system is more similar to what he did in New England as an understudy there, and it's apparent how at ease he is with it, while Manziel is clearly learning more as he goes.
 When Hoyer makes a mistake -- and he was far from uber-crisp during Monday's long full-padded session, for instance -- it tends to be more subtle, less painful such as the ball hitting the ground in a relative harmless spot of the field. When Manziel implodes, which is commonplace for any rookie passer, it can be disastrous, as when Shanahan, for whatever reason, had him booting left during 11-on-11 drills, which led to errant throws and at one point a brutal interception right into the chest of a linebacker. Manziel certainly misfired on some outs to the sideline, throwing them wide and high, and though he rallied strong to close out Monday's work, making a few alert reads to find open teammates in red-zone work, it would take a pretty spectacular preseason for him to be the guy to throw the first pass of the Mike Pettine/Ray Farmer era in Cleveland.
Don't get me wrong. I'm hardly naïve here. Manziel has the ability to make the spectacular happen in a way that Hoyer cannot, and we'll see how often that translates at this level. When everything breaks down -- and it will be with this rebuilding team -- he can be special. And, with the owner having some strong input on Manziel's selection with the 22nd overall pick, and Hoyer being a guy who hasn't been a stranger to the waiver wire (though generally through no fault of his own), if this Browns season starts to go how pretty much all have gone since the team returned to the NFL, well, Johnny Football is going to have plenty of opportunities to sell jerseys and tickets for the Browns this season (possibly through no fault of Hoyer's, either).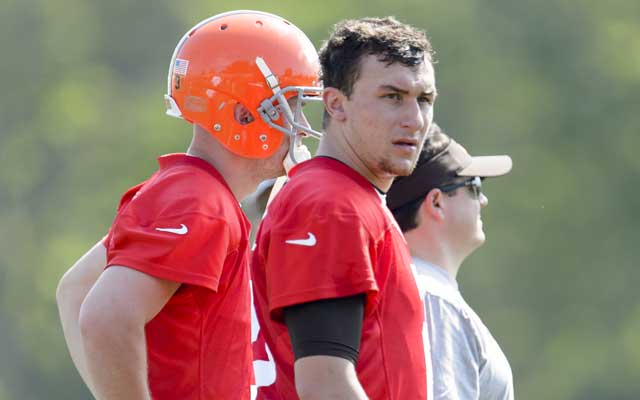 The biggest problem for both of these men is the fact that the young man making both of them look good in these practices, Josh Gordon, is very likely not going to play a snap this season as he awaits word of a possible season-long suspension.
Manziel had the crowd going when a ball he underthrew -- the wind gusted relentlessly Monday in particular -- was yanked down by the massive receiver, and right out of the hands of the defender. That throw-and-catch, just-go-up-and-high-point-the-ball stuff, that Manziel did so much of at Texas A&M with fellow first-round pick Mike Evans, well, that won't be there if Gordon is lost.
The rest of this receiving group is a concern (more on that to come), and the Browns are fully bracing for opposing defenses to stick a linebacker and a safety on tight end Jordan Cameron and sell out to stop the only big target the Browns are likely to have at their disposal.
"You can't really think about it and you have to go about it and practice like you are going to have him," Hoyer said. "Until we have a ruling we're practicing like that, and I don't see anything wrong with it. Josh is such a talented guy, and we're here to support him."
 Of course, the Browns might have another teammate who could use a hug every now and again, and we couldn't touch on the Browns quarterback situation without contemplating the organization's latest stance on Manziel's nightlife. The idea, posited recently by owner Jimmy Haslam, that the team is alarmed by some of his after-hours behavior, as if this was some recent development the last few weeks, was comical. Teams have huge budgets and security staffs and spend months investigating college prospects, and in this case a simple Google (or clicking Manziel's name atop this story) search, oh, at any point in the last 18 months would have given them plenty of indication that this kid loves the limelight. So let's not pretend this is some revelation.
 What the Browns are hoping, of course, is that it becomes a non-issue now, with Manziel sequestered in training camp, with bed checks and all, and, fingers crossed, with him working pretty much at least six days a week for the next five months, it should be a while before JFF shows up bombed in Vegas or rocking a swan in Austin.
"It's football season, so right now he's in the venue that we want him in," Farmer said, "which is competing on the field and demonstrating that he's going to be patient. And his popularity is always going to be based on what happens between the lines. So if the focus remains there, then it's exciting, because I think he will rise to the occasion. I think he will compete and look to demonstrate to be the starter. In any sport guys want to get in and play as much as possible, and that's our hope for Johnny -- that he can continue to grow on that front and make that really what his legacy and thought process is about."
Chances are come Week 1, he's doing that from the sidelines. In the meantime, Manziel should work to become a little more part of the group as well. From what I've heard, he would benefit from letting his guard down in the cafeteria and meeting rooms a bit more, and establish a little more common ground with some teammates. That wouldn't be a bad step, either.
And, if I'm Farmer, I'm making another shot at signing Hoyer to a long-term extension. The sides exchanged proposals a while back, amicably, but have made no progress since and no future talks are planned. If the Browns were willing to put in contingencies that rewarded Hoyer for quality product -- like significant salary triggers for reaching the playoffs and/or hitting certain playing time and statistical figures -- I'd venture to say it's possible a deal could get done. Short of that, however, I anticipate Hoyer doing what another AFC North quarterback recently, did, and pulling a Joe Flacco and gambling on himself, playing out his contract and taking his chances that the Browns, or some other team, step up financially in 2015.
Should the Browns get above .500, and should Hoyer replicate what he did in a short sample size a year ago for a full season, his price is only going to shoot up, perhaps astronomically. They manage to get off to a fast start against division foes early on, and that price starts skyrocketing even sooner.
Observations from Browns camp
•Browns rookie head coach Mike Pettine wants opponents to be black and blue when they face his team. Toughness is at the core of his message. So, he grinned a little devilishly when I told him I predicted there would be a skirmish or two on the field today when I planned my visit to Cleveland after checking their practice schedule. Tuesday was a second straight day in pads, there was a mandatory day off looming, and I had a feeling Pettine was going to put in a physical session. He didn't disappoint, with plenty of inside running work, and indeed, tempers flared. At one point about 20 players were pushing in shoving after Ben Tate got into it with a defensive lineman. In the end, no damage done, and the occasional incident like isn't necessarily counterproductive as the new coach makes him imprint on the long-suffering team.
"That's the price of doing business when you have issues like that in practice," Pettine said. "You don't want one side of the ball to be bullied by the other. You don't want it to become a distraction and be every play, bit that'll happen from time to time and that's the price of doing business for what we're trying to do out here."
Pettine is a good fit for this rough-and-tough division, and, like Bengals coach Marvin Lewis, he has roots in a Baltimore defense that has produced quite a few head coaches. "Rex (Ryan) said this a long time ago," Pettine said of the Jets head coach and his former boss in Baltimore, one of his coaching mentors, "when it's all said and done, the toughest team is the one that usually wins, especially in the AFC North."
• Often in this league, young general managers can be a bit skittish. Some tend to get nervous if the front office is comprised with older, more experienced execs and scouts. They might flinch from hiring strong-willed men who might challenge them some. Not all are willing to hire older evaluators, at least in some part wanting to have all the attention, and credit, with them.
So I give Farmer a lot of credit for spending a great bit of time since taking over as general manager in putting together a multi-layered front office that is far from the norm. Long-time personnel men Bill Kuharich, Bobby DePaul, and Ron Hill are among the men he has surrounded himself with, and he has a deep net of scouting eyes to cull upon in both the college and pro ranks. Haslam has also clearly given him a nice budget with which to buttress the front office, and bolster the number of scouts as well.
 "We definitely made some changes," Farmer said. "I think we have a good mix now. We added some folks -- older guys who have a depth of experience -- and guys that have a lot of history in this league. Those guys will be beneficial, as well as the young guys who are eager to grow and learn. So we are in a position where we can share ideas and learn together and hopefully improve the Browns. This is definitely a team effort, and that's where the success will lie for us as we collaborate and share ideas and we grow together. That's really the focus."
After a dizzying amount of turnover and turmoil during Haslam's brief tenure as owner, including an overhaul of the coaching staff and front office this offseason that few would have ever predicted, maintaining some stability and continuity is something the franchise must strive for. Time will tell if the owner allows this latest group the requisite time to show its merit.
• The Browns sent a strong signal to the locker room this offseason by making a deep financial investment to keep center Alex Mack and corner Joe Haden, completing a few of their key priorities. They have also been in talks with tight end Jordan Cameron, according to numerous sources, and it's at least possible a deal could get done before camp.
The sides have not been close, but with Vikings tight end Kyle Rudolph, who has not been very productive to this point, getting over $7 million a year, that would seem to set a good measure for the Cameron talks (I heard Cleveland's early proposals were more in the $5 million to-$6 million range). I can't help but wonder if this one heats up after a tepid pace to the early discussions. Cameron chuckled a bit when acknowledging he had perused the numbers on Rudolph's deal ("I got a few texts on that," he said coyly), and Farmer would not go into any specifics about the topic.   "I don't know where that's going to go, but I've always said I'll never negotiate in the media, so I'll refrain from comment on that."
• The battle between rookie Terrance West and veteran Ben Tate for the starting tailback job will be much more competitive than the quarterback race. If West continues to show he can adapt to pass protections at the NFL level (and the preseason games will be integral to that), he just might be able to make an impact early. He is an explosive runner and he has great hands as well.
The early returns on him are very favorable, though a lot of work remains to be done by the Towson University product. "Today I had some good feedback from the coaches and picked up some big blocks in pass protection," West said after Monday's practice, when he flashed well again. "And I want to be an every down back in this league, so I have to show them I can run, and catch and pass protect, and today was a great day. I feel like I started really picking it up in OTAs and during the break I stayed in my playbook and that helped me get caught up to speed."
West has no shortage of confidence despite his small-school background, and, for what it's worth, hasn't been shy about telling Browns who ask that he's worthy of serious fantasy football consideration. "I think I'm a very, very big steal," he said with a huge smile. Tate's considerable experience in the Shanahan zone blocking scheme from his time in Houston is an advantage, but West will keep things interesting as the season approaches
•There is no size in this receiving group outside of Gordon. It's impossible to miss. I love what I see from slot man Andrew Hawkins, but man, he is about my size. He is also their best bet for any real yards after the catch. Miles Austin looks good but his brutal injury history means no one is counting on him just yet. Nate Burleson is coming back from injury, too. Expect the Browns to be as active as any team in the NFL exploring receivers on the waiver wire and I wouldn't be surprised at all to see them among those pursuing CFL standout Duron Carter (son of Hall of Famer Chris Carter), once his season in Montreal is complete
•First-round pick Justin Gilbert looks the part. He shows up all over during practice and made one play picking a ball off in one-on-one drills, literally ripping it out of the receiver's hands on the sidelines, that you just can't teach. His ability and instincts are impressive. "Those are the things you look for," Farmer said. "Guys who make those non-routine plays, but make them routinely. So we're excited."
•The Browns aren't making any further comment about whatever medical condition that has kept offensive lineman Jason Pinkston from passing his physical and taking the field. His agents are also declining further comment.
The Colts quarterback says everything is fine, nothing to see here, folks, move along now

Sherman thinks that all quarterbacks on all NFL teams get treated better than anybody else

The Patriots coach looks pretty cool on the 15th anniversary cover of Nantucket magazine
Taco Bueno has been angling for a deal with Charlton ever since he was drafted

Jeff Garcia, Jimmy Clausen and Justin Forsett explain their involvement in American Flag Football...

The Panthers added more playmakers to take some of the pressure off Newton this season