Buccaneers backup QB Mike Glennon still looking to make impact
Despite starting most of last season, Buccaneers quarterback Mike Glennon is now in a backup role.
• 1 min read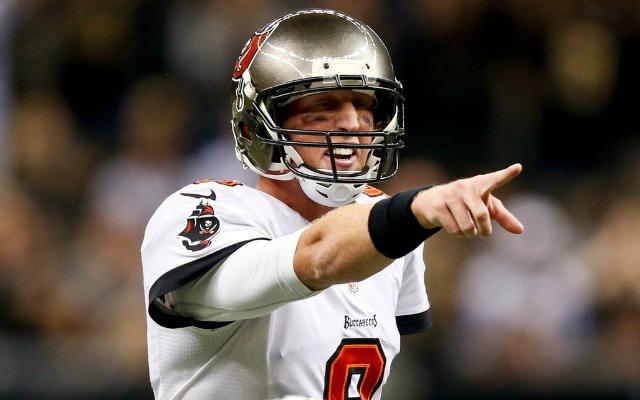 More NFL offseason: Mock Drafts | Prospect Rankings | Pro Days | Top free agents
Drafted in the third round last year, quarterback Mike Glennon actually had a pretty decent rookie season after Josh Freeman was jettisoned off the team. As you can see right here ...
| Year | Age | Tm | Pos | G | GS | QBrec | Cmp | Att | Cmp% | Yds | TD | Int | Y/A | Y/C | Y/G | Rate | 4QC | GWD |
| --- | --- | --- | --- | --- | --- | --- | --- | --- | --- | --- | --- | --- | --- | --- | --- | --- | --- | --- |
| 2013 | 24 | TAM | QB | 13 | 13 | 4-9-0 | 247 | 416 | 59.4 | 2608 | 19 | 9 | 6.3 | 10.6 | 200.6 | 83.9 | 2 | 2 |

Obviously, his record as a starter is subpar, but the rest of his numbers look solid for a quarterback in his first NFL season (obviously, not in an Andrew Luck/Robert Griffin III kind of way, but better than, say Blaine Gabbert).
Those stats obviously didn't matter to new coach Lovie Smith, who went out and signed middle-aged/veteran backup quarterback Josh McCown and proclaimed him the starter for 2014.
So, how did Glennon feel about that? Privately, it's unclear, but publicly, Glennon said Tuesday he would continue to (cliche alert) work hard and do what's best for the team he no longer leads.
"I'm just going to go out there and compete every day," Glennon said, via the Tampa Bay Times' Rick Stroud. "Josh has been great so far to me and it's going to be a great opportunity to work with him every day with a guy who has so much experience. At the same time, just by my nature, I'm going to go out there and compete and whatever my role is. I'm going to do it to the best of my ability and help this team win."
Soon after the Buccaneers signed McCown, Glennon said Smith called him to tell him about the news.
Said Glennon: "He just said to start out there's got to be a person to start that goes out with the first group first and that person is Josh."
Damn. Say this for Lovie Smith: he lets his quarterbacks know where they stand. 
Show Comments
Hide Comments
A little more than 29 percent of early declarees went undrafted, a small raise from recent...

No teams did bad enough to earn an 'F,' and give credit where it's due to the 49ers(!) and...

CBS Sports NFL Insider Jason La Canfora reports the Bills could be making a change at GM
College players who didn't get drafted are now free to sign with any team in the NFL

According to Sean McDermott, Taylor, Peterman and Cardale Jones will compete for the starting...

When factoring in value and quality of player, several teams stand out as true winners of the...