Buccaneers LB Casillas: Josh McCown reminds me of Drew Brees
Buccaneers linebacker Jonathan Casillas has apparently been impressed with new Tampa quarterback Josh McCown.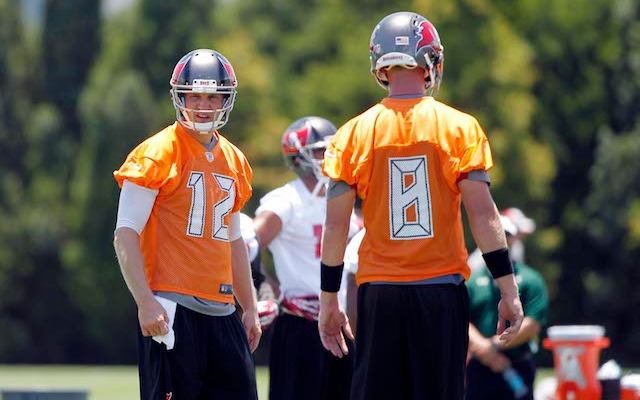 New Buccaneers coach Lovie Smith has said since March that Josh McCown is the team's starting quarterback and it doesn't look like anything happened during OTAs and minicamp that might chance Smith's mind. 
According to Tampa Bay linebacker Jonathan Casillas, McCown is playing on another level compared to last year's starter Mike Glennon. Casillas, a former Saint, also said McCown reminds him of his old quarterback in New Orleans. 
"McCown is just, he's on a another level right now, I believe," Casillas said on The Dave Rothenberg Show. "Don't take anything from Glennon; he's just only in his second year, but McCown looks like he's played a couple of years in this game. It's a strong comparison, but he reminds me of Drew [Brees], not just the way he throws the ball, but his approach to the game."
Apparently, McCown has been impressing everyone in the Tampa Bay locker room. 
"The first one in, last one out, he's always around," Casillas said. "He's very communicable, very personable. And you can tell he's a born leader. You know, he's not even trying to do much now, but people are following him, just his approach to the game. Glennon is learning a lot from him. So, if Glennon can beat him out this year, that would be great. Because at the end of the day, if Glennon can beat McCown out, then we're going to get a good quarterback."
McCown also got some praise this week from former teammate Larry Fitzgerald, who echoed what Casillas had to say. 
"I love Josh, he's a football junkie," Fitzgerald said on Thursday, via the Tampa Tribune. "You have to force the guy to come off the field in practice and the man's a great leader, the kind of guy you want in your locker room."
It sounds like a lot people like McCown. Buccaneers fans will really like him if he can help lead Tampa Bay to its first playoff appearance since 2007.
Show Comments
Hide Comments
This much is certain: The Browns desperately need a quarterback

The man who signed Romo is happy to see him move on from playing the game

Roger Goodell typically announces all the first-round picks, but he'll make an exception this...
NFL teams find out their schedule on the same day you do

There probably weren't too many complaints in Kansas City after the schedule was released

Glen Coffee is hoping to make an improbable NFL comeback