Buccaneers S Dashon Goldson suspended one game for illegal hit
Tampa Bay Buccaneers safety Dashon Goldson has been suspended for one game as a punishment for a helmet-to-helmet hit on Falcons receiver Roddy White on Sunday.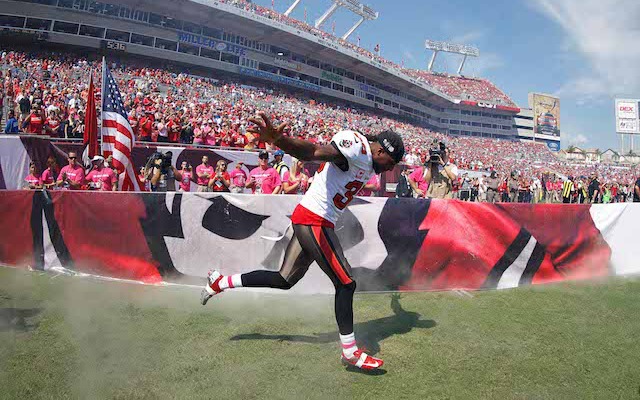 Back in September, the NFL imposed a one-game suspension on Buccaneers safety Dashon Goldson for a helmet-to-helmet hit on Saints running back Darren Sproles. The suspension didn't stick though, Goldson appealed it and won. Now the league's trying again. 
The NFL announced Monday that Goldson has been suspended for one-game for a helmet-to-helmet hit on Falcons receiver Roddy White during the second quarter of Tampa Bay's 41-28 win over Atlanta on Sunday. 
The league made the decision to suspend Goldson because it's his third violation of the season following the Sproles hit and a transgression in Week 1 agains the Jets. Against New York, Goldson was fined $30,000 for hitting a defenseless player in the head and neck area. 
As for the hit on Sproles. although the suspension was overturned, Goldson did get fined $100,000 for the helmet-to-helmet hit. As he did in September, Goldson is free to appeal his current suspension. 
If Goldson's appeal fails, he'll have to sit out the Buccaneers' Week 12 game against the Lions. The 25-year-old safety would be reinstated the day after the game on Nov. 25. 
Show Comments
Hide Comments
Could Green Bay trade to a QB-needy team or possibly take DeShone Kizer with the No. 33 pi...

The commissioner is concerned about how the league approaches medical marijuana

The Clemson quarterback started crying when he read a note from his mom
Both teams blasted the reports of a potential Kirk Cousins deal during Round 1 of the draf...

After an unpredictable Round 1, here are some predictions you can bank on for Rounds 2 and...

Receivers surprise in the top 10, Alabama goes MIA in the top 15 and more 2017 NFL Draft t...