By the numbers: Andy Dalton, throws 4 INTs, but leads team to win
Here are some of the most interesting numbers in Week 17.
• 4 min read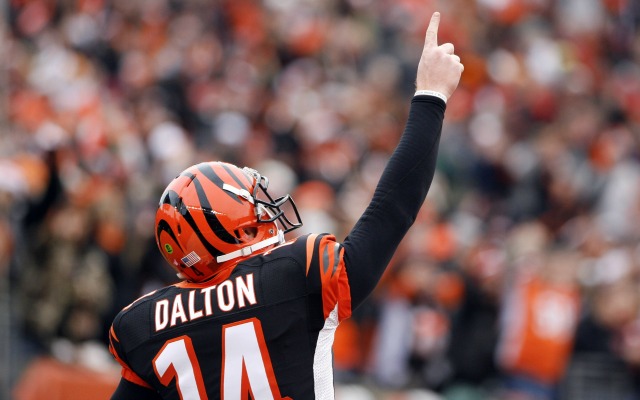 The Cincinnati Bengals are going to the playoffs. No matter what happened Sunday vs. the Ravens (Cincinnati, for the record, won 34-17), the team was on its way to its fourth postseason berth in the past five years. So, that's great news for that organization.
But here's the problem. Or the potential problem.
When quarterback Andy Dalton plays well, the Bengals are a legitimate Super Bowl contender. When he plays poorly, he really plays poorly, and Dalton, as I mentioned here last season, usually plays poorly when the stakes are the highest.
It's still a legitimate question to ask whether Dalton is a franchise quarterback -- and coach Marvin Lewis assuredly would answer in the affirmative -- but his four-interception performance Sunday leaves us with the feeling that the Bengals' 23-year playoff victory drought might not be quite so easy to snap.
Here were some interesting numbers to emerge from Cincinnati's win vs. the Ravens.
•This was the first four-interception game of Dalton's career. He previously had been picked three times in a game on four occasions, including twice this season.
•With his two touchdown passes, Dalton set the franchise record with 33 throwing scores in a season, beating Carson Palmer 's 32 touchdowns in 2005.
•Along with the touchdown record, Dalton also set a team record for passing yards in a season with 4,296, surpassing Palmer's 4,131 in 2007 (via the Bengals). Hey, Dalton isn't all bad, you guys.
•Receiver A.J. Green has accumulated 260 catches in the first three seasons of his career. That's the most in NFL history. Via ESPN Stats Info, the previous best was Anquan Boldin 's 259.
BY THE NUMBERS
.100: The winning percentage of Jay Cutler when his team faces the Packers, via the NFL on Fox. Cutler is now 1-9 vs. Green Bay.
1: The number of players in league history who have completed a 100-yard kickoff return, a 75-yard touchdown catch and a 50-yard touchdown run in the same season. That player is Minnesota Vikings rookie receiver Cordarrelle Patterson , via ESPN Stats Info.
2: The number of rushing touchdowns this season for New York Jets defensive tackle Sheldon Richardson . As Brian McIntyre points out, Richardson's touchdown total is more than his teammate, running back Bilal Powell , as well as Houston's Arian Foster and Tampa Bay's Doug Martin .
3: The number of players who have caught at least five passes for all 16 games of a season. After Washington's Pierre Garcon completed the task Sunday, he joined Antonio Brown (in 2012) and Jimmy Smith (in 2001) as the two others in the club.
8: The number of yards that Calvin Johnson , who didn't play this week because of a knee injury, fell short of becoming the first NFL player ever to record 1,500 receiving yards in three-consecutive seasons, via ESPN Stats Info.
8: The number of consecutive Super Bowl champions who didn't win a playoff game the next season, via NFL on Fox. This, of course, includes the Ravens, who didn't make the playoffs this year.
9: The number of sacks accumulated by the Carolina Panthers vs. the Atlanta Falcons , a team record, via NFL Communications. Carolina also matched its franchise record with 60 sacks on the season.
13: The number of career games Curtis Painter had played before Week 17, and in every single one of them, Painter's team had lost, via Gregg Doyel. Until Sunday when Painter relieved Eli Manning and, yet, the New York Giants still beat the Washington Redskins .
20: The number of interceptions thrown this season by Joe Flacco . Jeff Zrebiec points out that's a Ravens franchise single-season record, beating Vinny Testaverde's 19 picks in 1996.
50: The number of yards run by Patterson on his first-quarter touchdown run. It's the longest touchdown run ever by a Vikings receiver, via Viking Update. It's also his third rushing touchdown of the season, also a new team record for a receiver.
53: The number of years that have passed since the Redskins last finished a season with eight-consecutive losses. In team history, it's happened only once -- in 1960 after a 1-1-2 start, via Rick Snider. In 1994, the team lost 12 of its final 13 games of the year.
506: The number of receiving yards this season by Detroit Lions running back Reggie Bush , who joins Joique Bell as the only two running backs on the same team to record both 500 rushing and 500 receiving yards in the same season, via Dave Birkett. On the season, Bush finished with 1,006 rushing yards and 506 receiving yards, while Bell garnered 650 and 547, respectively.
1,259: The number of yards from scrimmage accumulated by Pittsburgh Steelers running back Le'Veon Bell . According to the team, it's the most yards in a season by a Pittsburgh rookie since Franco Harris in 1972 (1,235).
1,325: The number of career receptions Tony Gonzalez finished with now that he's played the final game of his 17-year Hall of Fame career. He finishes with the second-most catches in NFL history, behind Jerry Rice's 1,549. Also, Gonzalez finished with 15,127 receiving yards, the fifth-highest total ever.
1999: As the Vikings left the Metrodome following their win against the Lions, the last NFL game to be played there, the PA announcer played one of Prince's most famous songs. Via Jim Souhan.
4,274: The number of passing yards thrown this season by Arizona Cardinals quarterback Carson Palmer. In doing so, he's the first player in history to throw for at least 4,000 yards in a season for three different teams.
8,196: The number of career yards thrown by Andrew Luck in his first two seasons. It's the most in NFL history, beating Cam Newton 's previous record of 7,920, via ESPN Stats Info.
Follow Josh Katzowitz on Google+
The HOF will not stop the Juice from showing up at the ceremony to honor the new inductees

Raiders fans are probably going to be jealous of Tiger's pool table

The Juice isn't quite loose yet
Dallas receiver's offseason ends on a rocky note

Someone in America actually thinks the Jaguars will be going to the Super Bowl

The 36-year-old receiver is one of the biggest names left on the free agent market