By the numbers: NFL Draft leads to remarkable new records
Here were the most interesting numbers from this weekend's NFL draft.
• 3 min read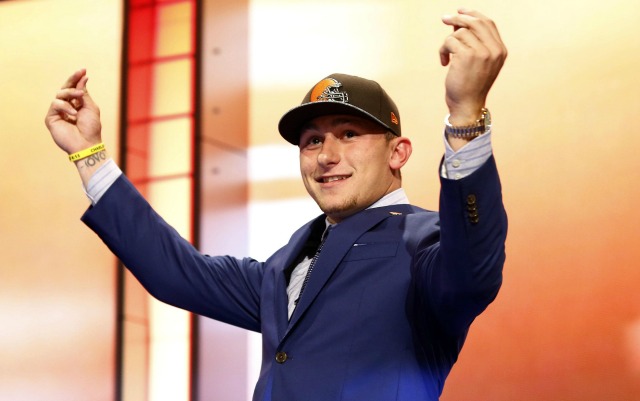 Draft coverage: Draft picks and grades | Prospect Rankings | Mock drafts | News
NEW YORK -- At last, another NFL draft has come and gone -- two weeks later than normal but with higher than ever ratings. After a first round that lasted 3 hours, 39 minutes on Thursday, the entire draft lasted a total of 14 hours, 55 minutes (somehow, it didn't feel like it lasted a second more than 14 1/2 hours).
All of which gave us plenty of time to scour all the best numbers and figures to bring you what we normally reserve for NFL Sunday nights: our overly-popular By the Numbers piece.
As such, here are the best ones we found.
0: The number of games won for Kansas City by the last nine quarterbacks the Kansas City Chiefs have drafted since 1988, via Elias Sports. Don't believe us? How about this: Danny McManus in 1988 (0-0 career record with Kansas City); Mike Elkins in 1989 (0-0); Matt Blundin in 1992 (0-0); Steve Matthews in 1994 (0-0); Steve Stenstrom in 1995 (0-0); Pat Barnes in 1997 (0-0); James Kilian in 2005 (0-0); Brodie Croyle in 2006 (0-10); Rickie Stanzi in 2011 (0-0).
1: The number of players that have ever been drafted from Lindenwood after the Cleveland Browns took Pierre Desir in the fourth round Saturday, via Eric Edholm.
1: The number of players that have ever been drafted from Marist after the Miami Dolphins took Terrence Fede in the seventh round Saturday, via Omar Kelly.
1: The number of Wisconsin Badgers that Green Bay Packers general manager Ted Thompson has ever drafted during his nine-year tenure in Green Bay. That would be this year's fifth-round pick, receiver Jared Abbrederis.
3: The number of quarterbacks picked with the No. 22 overall selection by the Browns in the past seven years. The first two, Brady Quinn in 2007 and Brandon Weeden in 2012, didn't fare so well. We'll see how Johnny Manziel does.
5: The number of consecutive years that a former Alabama player was drafted in the top-10 before that streak ended Thursday, via PFT. The list included Andre Smith (2009), Rolando McClain (2010), Marcell Dareus and Julio Jones (2011), Trent Richardson and Mark Barron (2012), and Dee Milliner and Chance Warmack in 2013). The earliest Crimson Tide draft pick this year was linebacker C.J. Mosley at No. 17.
7: The number of times in the past eight years that the San Francisco 49ers have drafted a running back, via Matt Maiocco. This year, it was Carlos Hyde in the second round and fullback Trey Millard in the seventh round.
8: The number of first-round picks (out of 32) who played high school football in Florida. Via NFL History, that's the most of any state.
10: The draft slot where the Detroit Lions selected Eric Ebron. Via Jay Morrison, Ebron is the highest-drafted tight end since Vernon Davis went No. 6 in 2006.
11: The number of years it had been since the Chicago Bears drafted a cornerback in the first three rounds before they took Virginia Tech's Kyle Fuller at No. 14 overall this year, via Brad Biggs. The last cornerback to be taken by Chicago that early was Charles Tillman in 2003.
12: The number of receivers drafted in the first two rounds. Via Dane Brugler, that's a record.

15: The number of undrafted free agents who reside in the Hall of Fame. And the recent undrafted rookies include Tony Romo , Bart Scott, James Harrison , Wes Welker , Arian Foster and Antonio Gates . So, there's still hope for pick No. 257 and beyond.
21: The number of starting quarterbacks the Browns will have used since 1999, assuming Johnny Manziel beats out Brian Hoyer for the No. 1 job in 2014.
37: The number of years it's been since the University of Alabama produced a first-round draft pick at the quarterback position, via CBSSports.com's Jon Solomon. Other SEC schools that have gone at least that long without one: Arkansas, Mississippi State and South Carolina. The last Crimson Tide player to go in the first round was Richard Todd in 1976.
43: The percentage of top-10 picks in the past four years that have come from SEC schools, via Jon Solomon. In 2014, the No. 1, 2, 6 and 7 picks were SEC alums.
61: The number of years it's been since a quarterback who measured less than 6 feet was drafted in the first round, via ESPN Stats Info. Johnny Manziel, the 22nd overall pick of the Browns, broke the streak that began the year after the Pittsburgh Steelers grabbed Ted Marchibroda with the No. 5 overall pick in 1953. Marchibroda only played four seasons in the league, and he threw 16 touchdowns against 29 interceptions.
249: The  slot where history was made and the St. Louis Rams drafted Michael Sam.
1937: The year the last time a University of Texas player wasn't drafted. Until 2014 when no Longhorns player's name was called. 
Show Comments
Hide Comments
Jones provided Cowboys tickets and travel accommodations to police officers and their fami...

Romo played DJ at a charity event and got Ezekiel Elliott on stage for 'O.P.P.'

Kaepernick has spent much of his offseason helping others and now supporters will return the...
Beast Mode led a bicycle parade through his hometown and apparently didn't even have to pe...

The NFL won't punish Revis, who remains on the market as a free agent

The NFL is playing the long game on L.A., but it's taking a serious hit in the short term