By the numbers: Tom Brady, Patriots recover from horrendous start
Tom Brady got off to a bad start Sunday. He and his team finished pretty well, though.
• 4 min read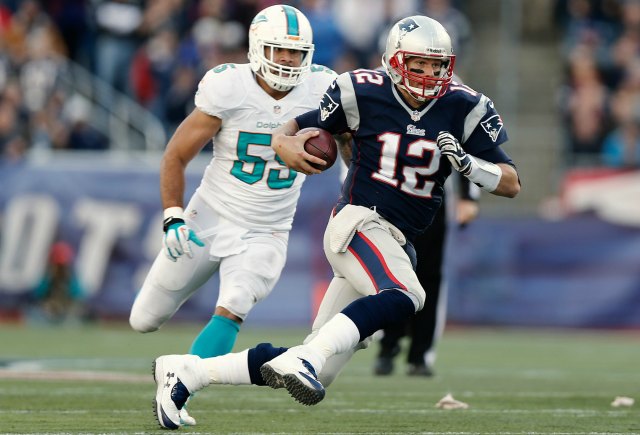 We asked an important question Sunday morning: is Tom Brady 's throwing hand injured? Because if you look at this photo, it's fair to assume that maybe, perhaps, just guessing that Brady's right hand isn't feeling 100 percent.
Brady's fingers weren't taped Sunday, but he looked anything but Brady-like as the New England Patriots were falling behind the Miami Dolphins in New England. In fact, he looked pretty awful.
For example:
-Brady's 25 passing yards in the first half were his third-worst total through the first 30 minutes of any game in his career, via ESPN Stats Info. It was the lowest first-half total since 2003.
-For the first time since Week 17 in 2011, the Patriots were down 14-0 at home. That day, New England fell behind 21-0 before scoring seven-straight touchdowns to beat Miami 49-21. Maybe that was some foreshadowing to Week 8.
-In New England's first 27 plays, they gained exactly 52 yards, via Ben Volin. If you don't have a calculator, that equals 1.93 yards per snap. If you're unsure of what that means, it ain't exactly good.
And there was this:
Quarterbacks who have more first half passing yards than Tom Brady today: All of them. Even Michael Vick , who left the game with an injury.

— Eye on Football (@EyeOnNFL) October 27, 2013
But, but, but ...
The Brady and Patriots squad that emerged in the second half was vastly different than the one that had entered the locker room to a cascade of boos from its home fans. Because ...
-After falling behind 17-3 heading into halftime, the Patriots went on a 24-0 run in the second half to send Miami to heartbreak.
-With Brady's first and only touchdown pass on the day, he recorded career No. 343, breaking a tie with Fran Tarkenton for No. 4 on the all-time career list. No. 3 on the list is Dan Marino with 420 touchdowns. (And with his five touchdown passes Sunday, Drew Brees also has 343 career touchdown passes.)
-The Patriots have now won 14-straight home games vs. AFC East opponents. They are the fifth team since 1970 to accomplish that feat.
BY THE NUMBERS

-4: The turnover margin for the Detroit Lions , who still managed to beat the Dallas Cowboys . This is only the second time in league history that a team that has lost four more turnovers than it's gained in a game has won that contest (the other was a Atlanta Falcons win vs. the Arizona Cardinals in 2012 during a game in which Matt Ryan threw five interceptions).
0: The number of NFL blackouts this season, the first time in seven years that the league has been able to declare that through the first eight weeks of the season (via Joe Reedy).
2: The number of games Peyton Hillis has been on the New York Giants roster. Since he was added to help Brandon Jacobs , New York is undefeated. While I'm being sarcastic about how much of a game-changer Hillis is, he has been somewhat effective, rushing for 70 yards on 20 carries on Sunday.
4: The number of touchdown catches by Cincinnati Bengals receiver Marvin Jones on Sunday, which beats Chad Johnson's former team record of three for a single game.
5: The number of points scored by the NHL's Philadelphia Flyers on Saturday. Which leads us to ...
7: The number of points scored by the Philadelphia Eagles on Sunday (H/T to Andrew Siciliano).
8: The number of career games that Brees has thrown for five touchdowns (via Elias Sports). That's the most in NFL history.
8: The number of consecutive games in which Cardinals quarterback Carson Palmer has thrown an interception, via NFLN Playbook. The good news: Palmer snapped a streak of five-consecutive games in which he threw at least two interceptions in a game.
10: The number of consecutive home games lost by the Eagles. We might be one year away from thinking of Chip Kelly like we think of Greg Schiano today.
11: The number of years it had been since the Oakland Raiders won a game coming off their bye week, via Eddie Borsilli.
17: The number of points allowed by the Kansas City Chiefs to the Cleveland Browns on Sunday, meaning Kansas City has allowed 17 points or less through the first eight games of the season -- the fourth team since 1970 that a team has accomplished that. The last team to manage that was the Falcons in 1977.
26:30: The number of minutes and seconds it took Sunday before the Browns got their first first down of the game.
127: The number of receiving yards recorded by Calvin Johnson before the Cowboys had even thrown a pass to Dez Bryant , via the Dallas Morning News. Johnson would finish with 329 yards, while Bryant accumulated 72 yards.
172: The number of games coached by Cincinnati's Marvin Lewis, and via the Cincinnati Enquirer, that means he passes Jim Mora Sr. with the longest tenure of a coach with one team who hasn't won a playoff game.
342: The number of points scored by the Broncos through eight games, the most in NFL history, via Denver PR. The 2007 Patriots had 331 points through the first half of the season.
800: With his fourth catch Sunday, Cardinals receiver Larry Fitzgerald became the youngest player in league history to get to the 800-catch barrier. He's 30 years, 57 days old -- which beat Jason Witten 's 30 year, 238 days.
15,424: The number of career passing yards for Detroit's Matthew Stafford , who has become the fastest quarterback ever to reach the 15,000 total in his 53rd game (via Fox).
33,694: The number of career passing yards for New York's Eli Manning , who passed Phil Simms as the Giants all-time passing yardage leader, via the NY Daily News. Simms accumulated 33,462 yards in 14 season and ranks 25th on the all-time career list. This, by the way, is Manning's 10th season.
Follow Josh Katzowitz on Google+
Show Comments
Hide Comments
He tried to grab the shark!

Marshall wants to bet expensive cars on each player's receiving yards, and Brown sounds do...

Sustainability is the big question at Broncos camp, where developing a quality offense is...
OK, maybe the wide receivers on this roster are pretty awesome

Atop this list? Not a quarterback, and that's never happened before

The NFLPA spent more than $3.5 million on legal fees for Deflategate according to a report