Calm and steady, Lovie Smith perfect answer for post-Schiano Bucs
Lovie Smith hasn't changed, but there's a marked difference in Bucs camp after the combustible Greg Schiano. Player friendly Smith is the right man at the right time for Tampa Bay.
• 8 min read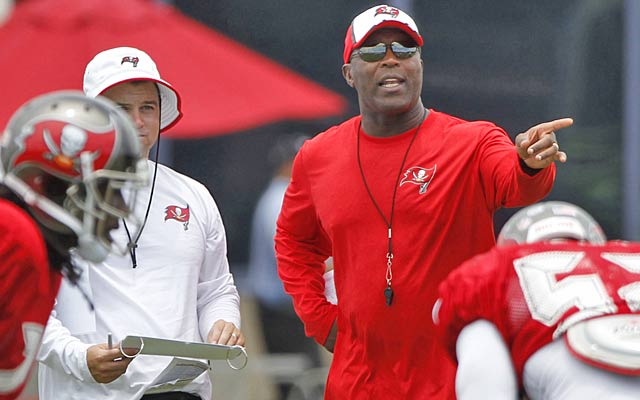 More NFL: Photos | Videos & GIFs | Training Camp updates | Manziel
Lovie Smith is a known commodity. There aren't too many curveballs or surprises.
He is steady. He is player friendly. He treats men like men and doesn't meddle in the locker room. He isn't going to scream and cuss and make waves. He brings with him a Tampa-2 scheme that he believes in, strongly, and a year away from the game hasn't changed that. He tends to have an affinity for fellow Texas natives. He wins his fair share of football games, but his teams in Chicago often tended to fade after quick starts.
A year out of coaching hasn't caused him to reinvent himself so much as tweak and hone an already established template. I don't presume an awful lot is going to change, as the release of elite corner Darrelle Revis -- a highly paid man-corner who wasn't a scheme fit in the zone-heavy scheme -- spoke directly to. The Bucs are already growing to like Smith, a strong figure, and certainly enjoy playing for him, as he is quite a contrast from uber-task master Greg Schiano -- much more of a micro-manager who was an odd fit in his first NFL coaching foray (but might be much better if he gets a second opportunity down the road).
Conversations with people in that locker room reveal a renewed spirit, a much stronger bond of solidarity between the coaching staff and the players, and with no shortage of talent assembled around them the past few years, this looks like the kind of young team that would fit well with Smith's style of coaching. This isn't a team that's going to overload you with complex schemes and sweeping adjustments. They'll be focused on doing what they do best, week in and week out, to win football games.
"I will say I see a little bit more juice and energy from him," said starting quarterback Josh McCown, who knows Smith well from their time together in Chicago. "And I think that's to be expected from the year off to rest and recharge and refocus. And I think it's fresh and new and it's good, but for the most part, yeah, Lovie hasn't really changed much.
"He's the same guy, and that what I love and respect about him. You know what you're getting every day, and the guys came to learn that through the offseason. Our messages are very similar in how we approach our work day and the efficiency and quality of work we're going to do. So I definitely see that carrying over, and it's the same thing we heard from him years before in Chicago."
What to expect on offense
This is a new frontier for Jeff Tedford, the longtime college coach who is now calling plays in the NFL for the first time. At this level, he is something of an unknown commodity, and I've heard he is certainly making a fair number of changes from what he ran in the NCAA. Based off the personnel moves made by young GM Jason Licht, who had an impressive first offseason under some difficult conditions, you can expect the offense to look somewhat like what Chicago ran last season, when McCown was one of the most effective passers in the NFL.
This team has assembled a group of huge targets, which is what McCown likes. Drafting wide receiver Mike Evans (6-foot-5) in the first round and tight end Austin Seferian-Jenkins (6-5) to play with top receiver Vincent Jackson (6-5) gives McCown a multitude of jump-ball options, whether by design or when things break down. That type of size and speed will test secondaries on a weekly basis, and it's complemented by what should be a dynamic rushing attack assuming Doug Martin comes back from injury playing the way he did before missing most of last season.
So there are obviously similarities to what McCown had in place in Chicago with a huge target receiver (Brandon Marshall), a tall up-and-comer (Alshon Jeffery) and a big tight end (Martellus Bennett) who wasn't exactly super productive despite having some great athleticism.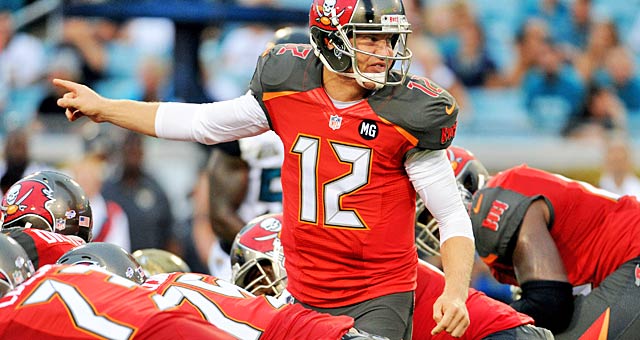 "Absolutely, there is some similarities," McCown said. "Obviously, those guys are all around the same size and there are natural comparisons there, but every year is different. Every year takes on its own story, and we'll see how that pans out. But there are things they can do with their skill sets between the two guys I had in Chicago on the outside, and the two guys in Tampa."
The Bucs have reshuffled the offensive line, parting with some aging vets -- several of whom were injury concerns -- who were set to make big bucks. There could be some early hiccups for sure, and there will be some adjustments to Tedford's system as well, which can only really be mastered once actual games are being played.
"I've been really impressed with him and his system," McCown said, "and the process and the way we go about things. It's really neat and it's different than what I've done in the league. It's a new system unlike anything I've done. Those things are challenging, but they're good. It stimulates you every day to be on your toes studying all those things."
What to expect on defense
A Lovie Smith defense isn't going to change an awful lot. He wants zone corners who will stay in their lanes and know when to leap and make plays on the ball as things are directed to them. Hence the signing of Alterraun Verner (though he has been banged up for much of the early part of camp), and the departure of Revis and his $16M per year price tag. His linebackers will have to cover a ton of territory in pass protection, manning tight ends down the seam and playing a key role in breaking things up in the running game.
There aren't going to be a ton of exotic blitzes and bringing pressure from all over, and I wouldn't be anticipating a super-aggressive approach. Success for this group will be predicated on discipline and staying within the assignment.
"You can still see it's all about fits and execution on what you are getting schematically," said McCown, who faces the unit every day at practice. "It's not a Rob Ryan or a Gregg Williams kind of multiple defense sort of thing. It's pretty vanilla, but it's being executed at a high level, and if guys are always where they're supposed to be, it is very effective."
McCown has watched young linebacker Lavonte David, the lifeblood of the defense, make the kinds of plays in space he had seen Lance Briggs make in the past, and Smith will be leaning heavily on tackle Gerald McCoy to continue to make the kind of rare leaps he's taken the past few years since overcoming injury woes. If that group up front is mauling people, then Smith's dedication to his scheme could be rewarded in big ways. If not, well, it could be a very different season, with the front four required to establish a fair bit of pressure.
Personality of team
The expectation is they will take on Smith's even-keeled temperament. Things were volatile under Schiano, with several young players colliding with him, the public falling out with former first-round quarterback Josh Freeman and the issues with MRSA in the locker room. It was ugly. No one is worried about whether the coach is going to make waves by trying to stampede through the opposition's victory formation. It's a much different scene now.
Smith is a breath of fresh air in that regard. There is a clean slate and he won't bristle or ride guys the way his predecessor did. That alone should make for empowering more leaders within the group and some of these young guys will have the time and space to find their voices and police things more from within.
Early buzz
The dramatic change from the way things used to be done has created quite a bit of excitement and anticipation from within, and on the outside as well. Thus the Bucs might be able to surprise some teams early, and if they prove that they're aren't going to succumb to the type of mistakes that have crippled them in recent years, penalties or otherwise, then watch out.
This is a team that had a penchant for beating itself, often late in games, after showing it could compete with some of the better teams in its division for the better part of 60 minutes. That can't continue and it's one of things Smith is working on. Getting them to be sharper and more focused when it's all on the line would be a good first step.
"Everybody is optimistic," McCown said, "but more than anything, I feel like there's direction, maybe a little more so than what they had been through in the past. But at the same time, we've just laid the foundation. We're still a long ways away from where we need to be."
Outlook
This isn't a year in which I see too many teams coming from nowhere to reach the postseason, and overall it might end up being mostly chalk. But this Bucs team intrigues me. Offensively, it has the potential to be dominant, and if the Bucs can be OK on the back end in the secondary, this might be quite a fun season in Tampa. I'm buying the optimism and I buy McCown as a guy who can be very good. I don't believe his amazing half-season in Chicago last season was just some fluke.
He is smart and savvy and has plenty of arm. Smith knows what he has in him, and their established trust will serve the team well. McCoy and David are All-Pros; Verner is going to have to have another Pro Bowl season. The first six weeks leading up to a bye could tell the tale for this season. They host the NFC South champ Panthers, face a beastly Rams defense, and then comes a brutal stretch at the Falcons, at the Saints and at the Steelers, before hosting the Ravens. If they survive, I like their chances to challenge for a wild card. If they don't, well, they seem to be pointed in the right direction, I have an abundance of confidence in Licht, and after having to dismantle a team this offseason he can focus on simply getting this team better moving forward.
Show Comments
Hide Comments
Brett Hundley was apparently on the block during Day 2 of the draft

The Bills fired their GM Sunday morning, then cleaned house

Get ready to start hearing a lot about Sam Darnold and Josh Rosen
College players who didn't get drafted are now free to sign with any team in the NFL

Benjamin has had weight issues going back to college

As one exec put it, 'We don't know what the hell they were doing'