Cam Newton fined $10K for visor clips he's been wearing since 2011
Carolina Panthers quarterback Cam Newton was fined $10,000 this week for something he's been doing since his rookie year in 2011.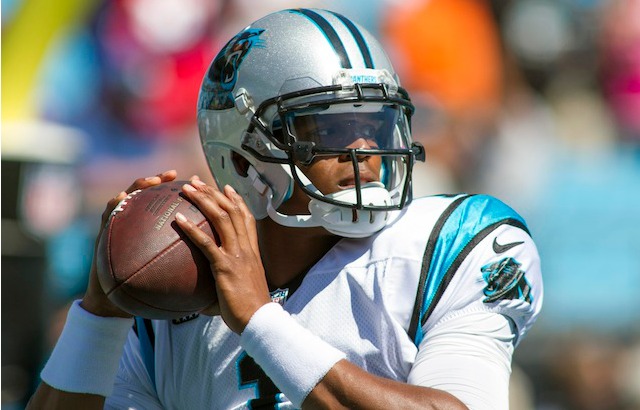 If Cam Newton has a subscription to Forbes, he's probably going to think about canceling it after this week. Newton was fined $10,000 by the NFL on Friday for wearing unapproved Under Armour visor clips on his helmet. 
The Carolina Panthers quarterback has worn the clips since his rookie year in 2011 -- a total of 35 games -- but he wasn't fined until this week when Forbes pointed out the visor clips in an article that was published on Sept. 24. 
The Under Armour logo was blacked out on the clips, but it was still a violation of the league's uniform policy. Nike is the league's official uniform apparel partner and is paying the NFL $1.1 billion through 2016 so that players don't wear Under Armour visor clips, or any other company's visor clips or any other company's anything. 
Here's the official policy:
No invisible identification of a manufacturer's name or logo on the exterior of a helmet or on any attachment to a helmet is permitted unless provided for under a commercial arrangement between the League and manufacturer.
Under Armour probably isn't thrilled that Newton won't be able to the visor clips anymore, but they're probably excited about all the publicity the company's received this week thanks to Newton. 
Show Comments
Hide Comments
Plus Seahawks eschew needs on the line and Rams seek help for Goff as we hand out NFC West...

Plus Saints and Falcons load up on defense as NFC South gets a massive boost in talent

Lions draft for now, Packers run down their checklist and Vikings find a runner in our NFC...
Plus Giants do a lot with a little and Eagles and Redskins face durability concerns in our...

Plus Broncos and Chargers help their QBs while Raiders gamble big in our AFC West grades

Texans pin hopes to Watson, new Jaguars must focus and Titans help Mariota in our AFC South...