Cam Newton had tough time with Rob Chudzinski in 2011
It sounds like Cam Newton didn't have an easy rookie season.
• 1 min read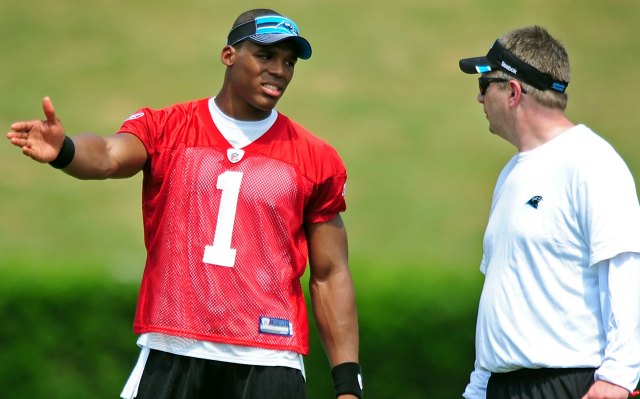 More NFL: Photos |  Videos & GIFs |  Training Camp updates | Manziel
Before he was fired after only one season as the Browns head coach, Rob Chudzinski impressed as the Panthers offensive coordinator.
In 2011, Chudzinksi was in charge of Carolina's top-five offense when Cam Newton had his phenomenal rookie season, and though neither the Panthers offense nor Newton were quite as good the next season, Chudzinski rode that initial wave to a new job in Cleveland.
But as Newton said Monday, that first season wasn't quite as easy as he made it look, and that's apparently because of Chudzinski, now a special assistant to Colts coach Chuck Pagano.
"It kind of was a learning curve, with having Coach Chudzinski," Newton told former Panthers GM Marty Hurney on his radio show on 730 ESPN in Charlotte, via Black and Blue Review. "He opened the floodgates with material right from the jump. I didn't like it then because coming from a hand signal philosophy from Auburn, it was kind of force-feeding a kid with carrots. I didn't want to learn it, and I was always trying to complain about the workload."
Newton also suffered from the prevailing theory that he was either selfish or sheltered during his rookie season and that he wasn't a good teammate, despite his impressive statistics. But hell, maybe he was having a tough time trying to imbibe so much information so quickly.
Newton said it was all a little too much.
"'Y'all putting in too many plays. We only can run one play!'" Newton said he told the coaching staff in 2011. "Me and coach Chudzinski were always butting heads with the workload because I came from a system that was look to the sideline and play -- fast. Make plays."
Newton also made plays in Chudzinski's system, but it sounds like it was plenty more difficult. Others, though, were impressed by Chudzinski's effect on Newton.
"Coach Chudzinski did a great job with Cam, and you saw how well he transitioned to the pros," Bills quarterback EJ Manuel said in April 2013. "He was Rookie of the Year and a Pro Bowl (quarterback)."
It's all in the perspective, I suppose.
Show Comments
Hide Comments
The Giants did not expect the Cal QB to be available in the third round

Plus Nick Saban sends a ton of talent to the NFL, the Browns find a QB and more from Rounds...

The Vikings' Latavius Murray and Bengals' Jeremy Hill also get put on notice with Cook, Mixon...
Here's everything you need to know about the 2017 NFL Draft

Here's a recap of Round 2 and Round 3 in the 2017 NFL Draft

Here are the 25 best prospects still available after three rounds of the 2017 draft have w...