Cam Newton less absolute about playing, will be game-day decision
If you're a Panthers fan, the Cam Newton news on Thursday wasn't so good.
• 1 min read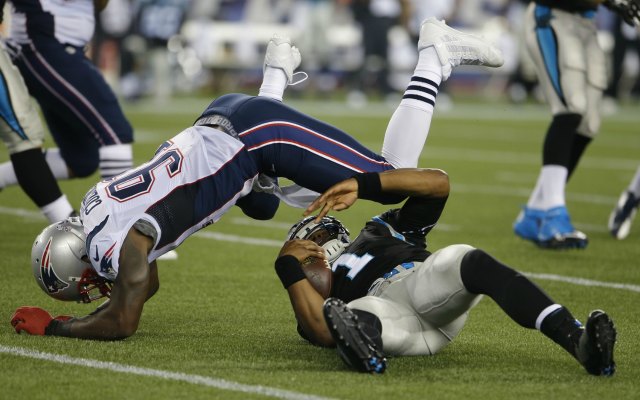 If you thought the matter of Cam Newton starting in Week 1 had been settled, let the Panthers quarterback give you a little bit of doubt about that supposed truth.
Last week, he said there was "no doubt in my mind" that he'd play in Week 1 vs. the Buccaneers, but on Thursday, he took a step back from that statement.
Newton said Thursday that he's still not 100 percent recovered from the fractured ribs he suffered in the preseason and that he's also not 100 percent sure he can play. As such, coach Ron Rivera said that Newton is a game-day decision.
For now, though, he does plan to suit up and play.
"Well, that's my thinking." Newton said, via the Charlotte Observer. "... Hopefully, when that clock starts, I'll be on that field."
That "hopefully" remark, though, might send shivers down the spines of Panthers fans.

Newton told reporters that he's never missed a game at any level but that he's not going to continue that streak if it negatively affects the possibilities of his team getting a win vs. Tampa Bay.
Newton also said he's taking the steps he'll need in order to be ready, but there seems little doubt that his ribs are still causing him problems.
"It's hard to sleep on it," he said. "It's hard to make sudden moves. It's hard to sleep. It's hard to breathe."
And lest you think Newton is just messing around with the media here.
It's time to start getting ready for the very realistic possibility Cam Newton won't play Sunday. This isn't just gamesmanship. #Panthers

— Black & Blue Review (@BlackBlueReview) September 4, 2014
Show Comments
Hide Comments
Bryant will have his progress reviewed again before the coming season

From Jadeveon Clowney to Odell Beckham, here's the option year prognosis for each 2014 first-round...

Gruden's team took Cadillac Williams instead of Rodgers in the 2005 NFL Draft
Agent claims Smokin' Jay Cutler's 'skill set is as good as any quarterback' in the NFL

A 23-year old woman alleges that Conley raped her in a Cleveland hotel room, and he strongly...

The Bengals are setting a sky-high asking price for their backup quarterback