Camp notes: Eyes on Manuel at HOF game; Saints casino camp questioned
The Bills are set to play Sunday in Canton, an early test of EJ Manuel's progress. The Saints holding camp at a resort casino is intriguing, too.
• 5 min read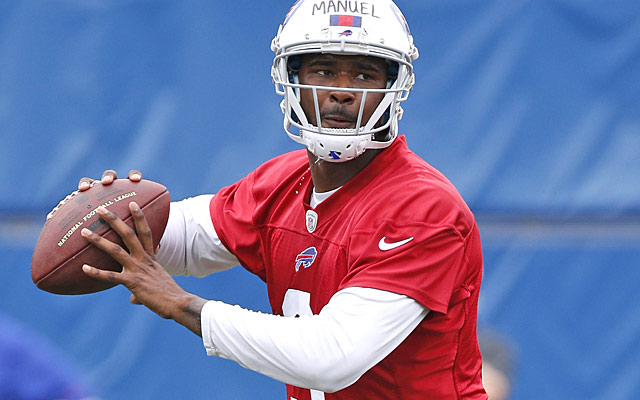 More NFL: Photos |   Videos & GIFs |  Stories | Training Camps | Manziel watch 
Since leaving Bills camp I've continued to hear from those in the know that EJ Manuel is still looking shaky. The accuracy, or lack thereof, threatens to be a significant issue, and I'll be very interested to see how much work he gets this weekend in the Hall of Fame Game.
Getting a bulk of it might not be a bad idea. You want to try to take positives from these outings and go out on a high note, and a few three-and-outs won't do anything to help any of that. Maybe Manuel will turn it on when the lights come on in Canton, but especially at a time when the team is bereft of tight ends -- who tend to be a kid quarterback's best friend -- I'm not sure even a super-human Sammy Watkins is going to be enough to boost Manuel's early stock.
He is an easy kid to root for, he has all the intangibles and he's exactly the kind of kid you want leading your franchise. And his sample size is still pretty small. But accuracy isn't often tough to develop, and if Manuel proves to be a 55 percent passer, given where he was drafted, that's going to be a problem. So having the extra preseason game is probably for the best for this offense, and Manuel in particular. And, rest assured, the Bills will continue to rally behind their guy. Bills coach Doug Marrone was staunch in his support for Manuel when we chatted a few days back (and, from what I've heard, a few rough practice sessions followed that).
The staff is encouraged by Manuel's growth from his first camp as a rookie, and the reality is, they don't have a proven veteran backup either way with only Thad Lewis and Jeff Tuell behind him on the depth chart.
"He's worked extremely hard," Marrone said, "and that's why when people say, 'Are you confident?' I'm extremely confident. I'm confident because of the work that he's put in, and it's shown. He's much, much better than he was the year before, and he gets better each day and he'll continue to grow as we go."
Casino location raises questions
More than one person who is involved with the day-to-day operation of an NFL team has expressed some concern to me over the location of the Saints training camp.
At a time when more than one NFL decision has come under scrutiny -- with the mild nature of the Ray Rice discipline being the latest high-profile example -- several execs in the league are grousing about the NFL's decision to allow New Orleans to hold the first few weeks of its camp at a resort casino in West Virginia.
Some execs said their clubs had reached out to the NFL for an explanation as to why it was acceptable for the Saints to stay at the Greenbrier resort, given that it offers full table games, but didn't really get an explanation. The NFL obviously has long had a staunch stance against gambling, has opposed the spread of legalized sports betting to states beyond Nevada, and, well, their recent battles with the Saints organization over the "bounty" investigation is well documented. So this raised a few eyebrows.
I had no idea that the Greenbrier was a casino (I thought it was a golf resort), and I think it's kind of naïve to think that there isn't a huge gambling component quite integral to the league's overwhelming popularity. So this isn't something I would have thought of on my own. But after being asked why this was allowed to happen, I figured I ought to at least pursue it.
I reached out to someone in a senior position at the league office, who explained, not for attribution, what went into the thinking. First, there is no sports betting at the Greenbrier; if there were, I got the sense this idea would have been quashed from the get-go. The Saints also have the NFL assurances that players and staff would not be involved in gambling activities while at the resort. In recent years, the NFL has loosened some of the sponsorship restrictions between casinos and clubs, and some NFL teams have had deals with state lotteries for club-themed scratch-offs, etc.
So, the NFL felt comfortable under those circumstances with allowing the Saints to move operations there for a while. If issues do arise, the NFL would then investigate them accordingly, I'm told.
Maybe it will be much ado about nothing and I certainly don't anticipate any issues arising. But at the highest levels of some NFL teams, the topic was certainly discussed, and some foreheads were being scratched.
Grand finale for Polamalu?
Had the opportunity to spend some time with Troy Polamalu during my visit to Steelers camp this weekend and get him to reflect some on his Hall of Fame career with the team. With the club in so much transition in recent years, this could end up being the final year of that distinguished career, and while Polamalu is certainly not thinking in those terms at all, he is savoring the fact that after a reworked deal he is in a position to finish his playing days in the same place he started them.
Polamalu's pro day at USC remains legendary among some NFL types, and certainly within the Steelers' organization. There happened to be a few future coaching stars around that day on the Trojans staff helping him along as well while he wowed NFL brass with his workout.
"I can remember Hue Jackson (future head coach of the Raiders of current offensive coordinator of the Bengals) kept encouraging me through it," Polamalu said, "and Coach Pagano (Colts coach Chuck Pagano) was running my position drills and he was really encouraging, and I was like, man, this guy is such a nice guy. So whenever I have seen him since I always make sure to say hello to him."
And, as great as his tenure has been, Polamalu got a chuckle out of recalling some of his struggles in his rookie season, when he made his share of novice mistakes. It wasn't always as easy as he has made it look most of his career.
"My rookie year I was very disappointed I didn't get offensive MVP, because I gave up a touchdown a game," Polamalu deadpanned. "So it was a really rough year."
By Week 4, he was being referred to as a bust -- that's when Polamalu vowed to never read the paper again, for better or worse.
"Then, come Week 16, right around the last game," Polamalu said, "Mr. Rooney comes up to me and he says, 'Troy, don't pay attention to what they're saying, I think you're doing great.' And I thought, 'Oh great, they still must be talking bad about me.' "
Show Comments
Hide Comments
Don't blame Norman -- he's 10 inches shorter than the Knicks' Kyle O'Quinn

The Cowboys owner offers an interesting take on what's bringing future fans to the game

The Seahawks cornerback told a student last year that he'd pay for a scholarship if she raised...
Romo is set to call games for CBS Sports this fall, but the Cowboys are keeping the door o...

Can Roberto Aguayo, the Bucs' maligned second-round pick, beat out Nick Folk?

John Mara says Colin Kaepernick's protest led to a ton of letters from emotional fans