CB Bradley Roby defends himself against OVI charge
A few weeks before the NFL draft, former Ohio State cornerback Bradley Roby is attempting to clear his name.
• 1 min read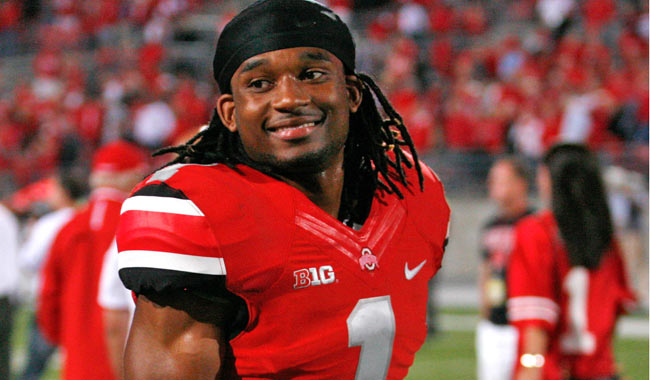 According to the Franklin County (Ohio) Municipal Court website, Ohio State cornerback Bradley Roby, a potential top-10 draft pick, was charged with OVI last weekend when police say they found him asleep in his car and then failed him on his subsequent field sobriety test.
On Friday, though, Roby took to Twitter to defend himself.
I was not drunk pic.twitter.com/CviiPuydkp

— Bradley Roby (@BradRoby_1) April 25, 2014
I was not driving . I did not get arrested . Was not in a cell . No finger prints . No mugshot

— Bradley Roby (@BradRoby_1) April 25, 2014
I have lost any respect I had left for the media. I take ownership in my part of it. But you run a story at least put out all facts ...

— Bradley Roby (@BradRoby_1) April 25, 2014
So, there's that.
Also, here was a statement made by Michael Perrett, Roby's agent.
"This past weekend my client Bradley Roby was issued a citation in Columbus, Ohio for operating a vehicle while impaired (OVI). Bradley was sitting in his parked car in a parking lot when he was approached and questioned by an officer. He was fully cooperative and willingly submitted to field sobriety and breathalyzer tests. His BAC test registered a negligible .008 and after further testing at the police station, he was very quickly released on his own recognizance. There are no other charges, and we are confident that this matter will be resolved quickly and favorably for Bradley. However, as the matter is still pending, we cannot comment further at this time."
But as CBSSports.com's John Breech wrote, "If Roby doesn't win this case, it could create issues in a prior arrest. The Buckeye corner was arrested in July 2013 and charged with misdemeanor disorderly conduct after getting in a bar fight. That case was conditionally dismissed in August with the understanding that Roby would complete a diversion program that requires him to avoid legal trouble until Aug. 16, 2014."
Show Comments
Hide Comments
Our Latest Stories
The Bills receiver is going to miss significant time

The best wide receiver in the game is paying homage to The King

The running back is supposed to get his first action against the Steelers
The Cowboys are going to play it safe with their star receiver, who's dealing with a knee...

Jackson said the team is "moving on" from the talented wideout

Are rookie quarterbacks Carson Wentz and Dak Prescott as good as the numbers suggest?