CB Rodgers-Cromartie let Quentin Jammer have his starting spot
In a sign of deep respect for his teammate, Broncos cornerback Dominique Rodgers-Cromartie gave up his starting spot to Quentin Jammer.
• 1 min read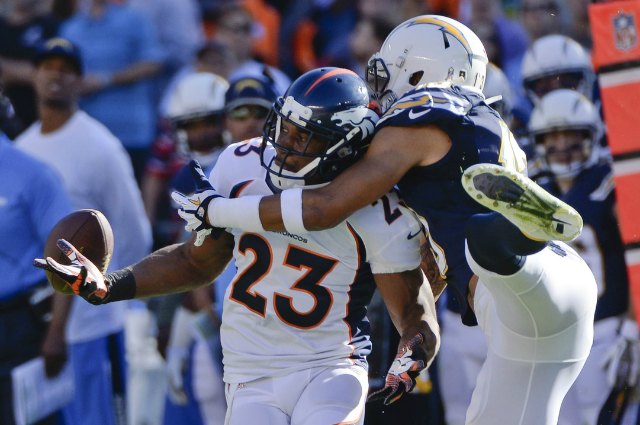 From 2008-2012, cornerback Quentin Jammer started all 79 games he played, but after leaving the Chargers and signing with the Broncos in the offseason, Jammer has become nothing more than a 12-year veteran who has transitioned into playing as a backup.
And playing not that much as a backup.
Entering Sunday's game vs. his old team, Jammer had participated in only 4 percent of Denver's defensive snaps (and 14 percent of its special teams plays).
Until, that is, Denver starting cornerback Dominique Rodgers-Cromartie had a generous idea. Unbeknownst to interim coach Jack Del Rio, also the team's defensive coordinator, Rodgers-Cromartie gave up his starting spot and handed it to Jammer in Denver's eventual 28-20 win vs. San Diego.
Instead of taking the field for the first defensive snap, Rodgers-Cromartie let Jammer go ahead of him.
"I grew up watching guys like Jam and Champ Bailey," Rodgers-Cromartie said, via the Denver Post. "I thought it was only right that he start in a place where he played for such a long time."
The two ended up sharing playing time for much of the first quarter before Rodgers-Cromartie returned to his regular spot in the base defense for the final 45 minutes.
"I didn't know what was going on," said Chris Harris, the other starting cornerback. "I just knew I had the left [side of the field]. Sometimes I'm wondering what's going on. They had that schemed up."
As for the reaction of Jammer, who recorded three tackles and a pass break-up?
"I thanked him," Jammer said. "I thanked him before the game and I've been thanking him after the game."
Follow Josh Katzowitz on Google+
Show Comments
Hide Comments
Our Latest Stories
According to one report, multiple teams are interested

Foster, 30, stepped away from the NFL abruptly Monday in the middle of his eighth season

The first-round pick says he refuses to be disrespected
With DeShone Kizer likely to stay in school, pass rushers rule the top of the draft

Foster, one of the best backs of his generation, says his body can no longer take the puni...

Henry reported concussion symptoms after a big win Sunday in Atlanta