CBSSports.com's Biggest Disappointment of the season is RG3
What happens when you take your team to the playoffs in your rookie season, then you finish 3-13 in your sophomore season? You win CBSSports.com's Biggest Disappointment award.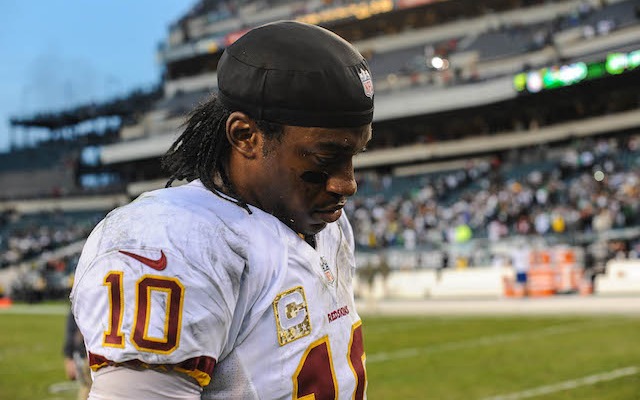 Offensive rookie of the year | Defensive rookie of the year | Comeback player of the year | Disappointment of the year | Coach of the year | Defensive MVP | Offensive MVP
The case for Robert Griffin III being the biggest disappointment: Robert Griffin III may have raised the bar too high in his rookie season when he led the Washington Redskins to a 10-6 record and an NFC East division title. Things started to fall apart after RG3 tore his ACL in the playoffs against the Seattle Seahawks . Griffin and Mike Shanahan were never on the same page after that injury -- not that they were completely on the same page before that. Griffin struggled to create plays with his legs in 2013 like he did in 2012. Even his own receivers were willing admit that RG3 lost a step. Pierre Garcon said RG3's knee brace was slowing him down. Santana Moss said Griffin wasn't taking enough responsibility on offense. Basically, it seemed like everyone in the organization had an RG3 complaint to get off their chests in 2013.    
The case against RG3 being the biggest disappointment: The case against RG3 can be broken down into two words: Eli Manning . When you start talking about the NFL's most disappointing players in 2013, Manning is definitely on the list. Manning threw 27 interceptions this season, a number only nine other quarterbacks have topped since the AFL-NFL merger in 1970. Manning also regressed in other ways, his completion percentage (57.5) was his lowest since 2007 and he only threw 18 touchdown passes, the fewest since his rookie year in 2004 when he only started in seven games. Don't think for a second that the biggest disappointment category is limited to Manning and RG3 either -- Ray Rice , Matt Schaub and Trent Richardson were also big disappointments this season. 
Of course none of those players had this happen to them on national television:
Robert Griffin III got kicked in the junk: pic.twitter.com/QuwSG7MoxC

— Will Brinson (@WillBrinson) November 26, 2013
Why RG3 is our choice: Nothing went right in Washington. It seemed like every week this season there was some new drama going on with the Redskins and almost all of it involved Griffin. There were reports that RG3 didn't want his negative plays shown in the film room. After Griffin was benched in December, there was a report that RG3 and Mike Shanahan stopped talking to each other. Just like 2012, all of the problems in Washington could have been cured -- at least temporarily -- with winning, but that never happened and the Redskins lost eight straight to end the season. 
Will RG3 win the hardware? There's no official Biggest Disappointment award because no one wants to hurt anyone's feelings, but if there were such an award, RG3 would definitely be the favorite. But there's no reason Eli couldn't put together a strong campaign at the last second to try and steal the award from Griffin.
Top-10 vote totals (first-place votes in parenthesis):
1. Redskins QB Robert Griffin III: 33 (2)
2. New York Giants QB Eli Manning: 28 (1)
3. Baltimore Ravens RB Ray Rice: 26
T-4. Houston Texans QB Matt Schaub: 22 (1)
T-4. Indianapolis Colts RB Trent Richardson: 22 (1)
6. Miami Dolphins WR Mike Wallace : 19
7. Minnesota Vikings QB Josh Freeman : 18 (1)
8. Atlanta Falcons QB Matt Ryan : 15 (1)
9. St. Louis Rams CB Cortland Finnegan : 7
T-10. Chicago Bears DE Julius Peppers : 6
T-10. Giants DE Jason Pierre-Paul : 6
Show Comments
Hide Comments
Can the Browns get it right? Can the Cowboys and Raiders build dynasties?

The versatile safety/linebacker could slip out of the first round

Ware played the first nine seasons of his NFL career for the Cowboys
The crowd went wild when Waka informed them who was on the phone

Everybody whiffs in the draft. Here's the worst pick for each franchise since 1995

Smith missed all of last season recovering but could be close to a return