Champ Bailey looking to answer questions in first Super Bowl
A year after a worrisome performance against the Ravens, Champ Bailey is back to being an effective cornerback
• 3 min read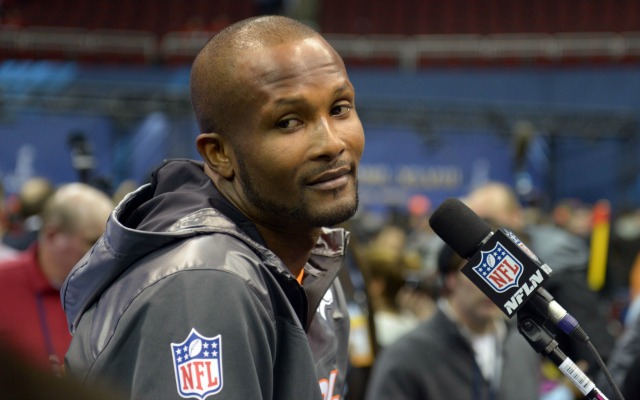 More SB coverage: XLVIII odds | Expert picks | Super Bowl weather | Latest news
NEWARK, N.J. -- The lasting image of Champ Bailey at the end of the 2012 season and for most of 2013 was Ravens receiver Torrey Smith burning the Broncos cornerback for three catches, 98 yards and two touchdowns in Baltimore's upset playoff win at Denver.
That led to one important question heading into the 2013 regular season. Was Bailey, the 12-time Pro Bowler who's been such a strong shutdown cornerback since he was drafted No. 7 overall in 1999, nearing the end of his career? Could he still compete with the best receivers in the game?
We didn't get our answer, because for most of the season, Bailey has battled a foot injury, playing only five games and failing to grab an interception for the first time in his career.
"It's been tough," Bailey said Tuesday at Media Day. "Dealing with injuries is always tough because it's so unpredictable. I'm definitely not a spring chicken anymore, so I can't just expect to be healed really fast. That's probably the hardest thing I've had to deal with."
But when his team needed him -- with cornerback Chris Harris out with a torn ACL -- Bailey, like he's done so many times in his career, helped the Broncos grab an important win (in the playoffs, no less) and was instrumental in shutting down Tom Brady in the AFC title game.
And on Tuesday, there Bailey was, sitting at a podium taking questions for an hour. He claimed the Super Bowl experience wasn't all "it's caked up to be," but it was unclear if he was just joking. Yet, considering Bailey has been the soul of Denver's defense since the Redskins traded him to the Broncos before the 2004 season, this Super Bowl trip must be filled with special moments.
Especially when you consider where he was after Smith so clearly got the better of him last year.
"Everybody's going to get beat, everybody's going to have a bad game at some point," Bailey said. "I think that's what separates the pros from the guys that think they're pros. It's the guys that can forget about the bad things and just keep moving on."
But Bailey couldn't move on -- at least not in the public's mind. Since he didn't play much of the year, the questions about whether Bailey could be the player he once was were murky. And it's not like they're completely answered. He had one good high-profile performance against the Patriots. If the Seahawks receivers win the game for Seattle on Sunday, the questions will return, probably with more intensity.
"I see him in practice every day," said Denver receivers coach Tyke Tolbert. "I see the work he puts in. Champ is still a really good player. He's an elite player when he has the time to go out in a consistent manner. But if you saw him work in practice, you wouldn't ask that question."
And it's clear that his teammates and coaches respect him on a deep level. When linebacker Wesley Woodyard first entered the league, he wondered about how much of an impact he could have with children in the community. "Come to one of my charity events," Bailey told Woodyard, "and see how it goes."
Ever since that day, Woodyard has taken pride in how much charitable work he does in the community.
"His work ethic, the way he conducts himself, the way he carries himself -- I think it's a great example for the younger players," said defensive coordinator Jack Del Rio. "He's been terrific. It's tough because he hasn't been completely healthy for large stretches of the year. Tried to come back and ended up getting nicked again and here we are now. He's playing his best football and it's a great time for him to be doing so. He's an important piece to what we're doing right now."
So, it's come to this. Bailey doesn't have much time left in this game -- he was asked about the possibility of retirement Tuesday, and he said "We'll see" -- and he's finally made his first Super Bowl.
A year after Torrey Smith provided a nightmare, Bailey is finally here to see just how caked up all of this was supposed to be.
Follow Josh Katzowitz on Google+
Show Comments
Hide Comments
Four defensive backs are picked in the final five spots of the first round in Rob Rang's final...

The last version of Will Brinson's 2017 NFL Mock Draft sees the Chiefs land their new franchise...

Character has become such a concern for draft prospects that scouts spend a majority of their...
Also, expect Haason Reddick to go higher than expected and Reuben Foster to be taken on Th...

Plus the Cowboys and Steelers find new cornerbacks late in the first round in Dane Brugler's...

The league appears fully prepared if the Browns decide to pull off a few unexpected trades