Chandler Jones hospitalized Sunday morning under bizarre circumstances
Patriots defensive end Chandler Jones was hospitalized on Sunday morning after showing up to the Foxboro Police Department, but why he was there remains unknown.
Patriots defensive end Chandler Jones was hospitalized on Sunday morning after showing up to the Foxboro Police Department, according to police reports obtained by the Boston Herald.
What caused Jones to arrive to the police department remains unknown, however, with police officials declining to specify what emergency caused Jones to arrive at the police department.
Additionally, police Chief Edward T. O'Leary told the Herald that "information was deleted" before the police reports were given to the paper.
Jones arrived at the police station at 7:42 a.m. ET on Sunday morning with "a medical emergency" and was evaluated by medical personnel before being taken to the Norwood Hospital around 8 a.m. ET.
The circumstances surrounding the investigation don't get any less weird: The Herald's report says it called O'Leary Tuesday about Jones being hospitalized and the chief denied any involvement with Jones.
But dispatch records obtained by the Herald about two hours later showed at least five officers on the scene while Jones was being evaluated in a back parking lot of the station.

Another officer was dispatched to Jones' home, which is only about a block from the police station, to "secure the residence," according to the dispatch report.
The chief didn't claim he was wrong, but rather pointed to it being a "medical call."
"No, because it was a medical call," O'Leary told the Herald. "I didn't look at it as a police-specific call."
O'Leary said he didn't know why Jones came in or whether his officers "secured" Jones' home after the Pats defensive end came in.
"I have no idea," said O'Leary. "I didn't talk to the officer. I don't know whether there was no one else at the home or whether he was asked. I don't know."
As for the deleted information, it was "protected" because it was a "medical condition."
Jones was at Patriots practice on both Monday and Tuesday.
"Chandler Jones was admitted to the hospital on Sunday and released that day," the Patriots said in a statement. "He reported to work on time Monday morning and has participated in all meetings and practices since then."
The Patriots play the Chiefs at 4:35 p.m. ET on CBS Sports in the opening game of the divisional round on Saturday.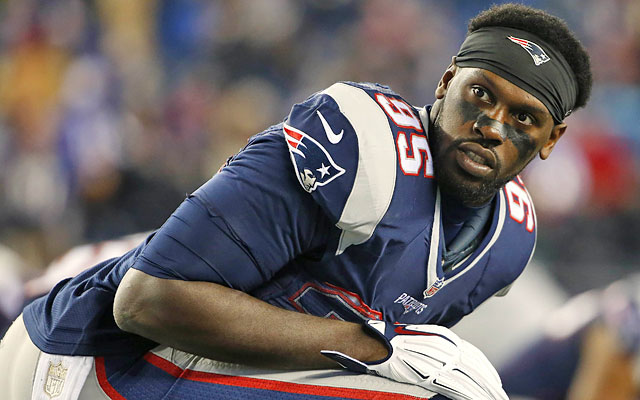 Show Comments
Hide Comments
Four defensive backs are picked in the final five spots of the first round in Rob Rang's final...

The last version of Will Brinson's 2017 NFL Mock Draft sees the Chiefs land their new franchise...

Character has become such a concern for draft prospects that scouts spend a majority of their...
Also, expect Haason Reddick to go higher than expected and Reuben Foster to be taken on Th...

Plus the Cowboys and Steelers find new cornerbacks late in the first round in Dane Brugler's...

The league appears fully prepared if the Browns decide to pull off a few unexpected trades