Chargers announcer Hank Bauer suspended for anti-Semitic joke
Chargers announcer Hank Bauer will miss the final preseason game of the year.
• 1 min read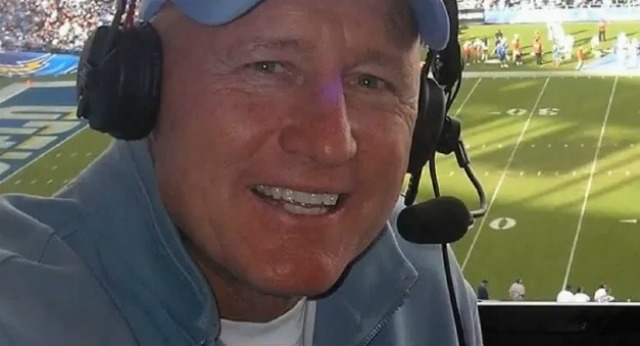 An anti-Semitic comment by Chargers radio announcer Hank Bauer has landed him a one-game suspension, meaning he won't be working the team's final preseason game this Thursday.
The comment by Bauer with less than a minute to play in the Chargers preseason game last week came when he made a Jewish joke at the expense of radio partner Josh Lewin.
Listen here as Bauer yuks it up.
Once again: Bauer repeats a supposedly well-worn joke about Jewish thriftiness and then follows it up with, "I say that respectfully and endearingly."
Later, Bauer apologized on Twitter:
I made a hurtful insinuation that I regret and I would like to express how sorry I am. My poor choice of words were unfortunately open for

— Hank Bauer (@hank_bauer) August 26, 2014
negative interpretation, please know it was never my intention to offend any of my listeners. I hope you accept my apology.

— Hank Bauer (@hank_bauer) August 26, 2014

Here was the Chargers statement, via NBC San Diego:
"Although we know Hank had no ill-will behind his remarks, we agree the comments were inappropriate. Per Clear Channel's decision, Hank will not be broadcasting Thursday night's game. Hank has been a strong radio voice for the Chargers for the past 16 years and a passionate supporter of the team since his playing days. We look forward to Chargers fans receiving the same high-quality broadcast from Josh and Hank when he returns to the booth for the regular season."
I'd actually never heard that joke before. As a Jew, I wasn't offended by it, but I also didn't think the joke was funny. Either way, I couldn't resist dropping a little Yiddish on Bauer.
Gey cocken offen yom, Hank Bauer. http://t.co/hkLVD4RhBt

— Josh Katzowitz (@joshkatzowitz) August 27, 2014
Show Comments
Hide Comments
Remember when the Falcons blew a 28-3 lead in the Super Bowl? The Bucs do

Wearing a No. 1 jersey, Jackson was unmistakable when running deep routes one-on-one on Tu...

The quarterback missed the 2016 season because of a torn ACL and dislocated left knee
It's reportedly a five-year deal that has a clause to turn it into an eight-year deal

Though Gronk has dealt with injuries, he's the Patriots' most important weapon when health...

The Bengals coach says he doesn't understand why the NFL wants to give in to individual ce...