Chargers CB Brandon Flowers: I'm the best corner in football
We have a new name to consider in the never-ending debate about who the best corner in football is.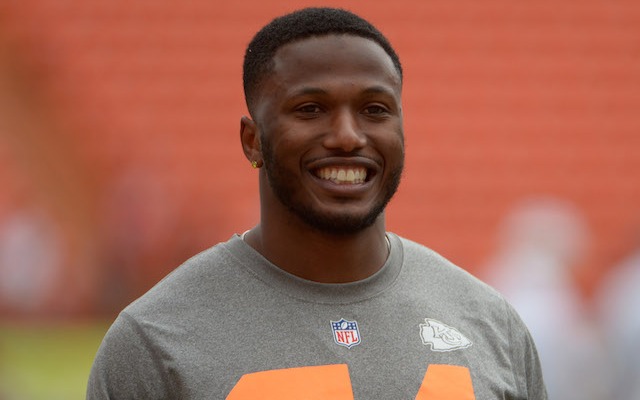 The argument about who the best corner in the NFL is has been raging on all offseason. Richard Sherman says it's him. Falcons wide receiver Julio Jones and Patrick Peterson both say it's Peterson. Antonio Cromartie says it's either him or Darrelle Revis. Aqib Talib even got a vote. 
Then there's DeAngelo Hall, who says he's the best man-to-man corner in the league. 
Forget all that for a second though because Brandon Flowers has now weighed in and he thinks the best corner in the NFL is Brandon Flowers. 
"First off, let me just say I'm the best corner in football," Flowers told the NFL Network last week when asked who the best corner in football is. "Let's get that clear. Don't let my injuries last year fool you, or take my name from the top list."
OK, fine, but besides you, who's the best corner in football?
"One guy whose game I definitely respect throughout the years was (Darrelle) Revis," Flowers said. "Coming from a system that he played in, it's a lot of man-to-man being played, him shadowing receivers, and he definitely put in that work. Not to say anything else bad about the other corners, but Revis is definitely a corner I respect in this league."
Back to Flowers though, the interview with NFL Network was one of the first ones he did after signing with San Diego. The reason Flowers was able to sign with the Chargers is because the Chiefs dumped the 'best corner in football' in mid-June. 
"I was very surprised when it happened," Flowers said of being cut by Kansas City. "I knew I hit the cap pretty hard, but I thought if I was going to get traded or released it was going to be in February or March sometime, so the timing that they did it, it kind of hit me."
Flowers said the revenge-factor played into his decision to sign with the Chargers, "That's why I stayed in the division," Flowers said. "I wanted to let the Chiefs know that's why they hit me. I want to let them know how I felt about it."
So is Flowers the best corner in football? Probably not, but he can at least brag to his friends that over the past five seasons, he's one of Pro Football Focus' top five corners. 
Even after a poor 2013, Brandon Flowers' +35.5 @PFF coverage grade in the last 5 seasons is the 5th-highest of any CB.

— Pete Damilatis (@PFF_Pete) June 13, 2014
Show Comments
Hide Comments
Manning has no plans to return to the NFL, even with the Vikings' sudden need at quarterba...

All four quarterbacks might make the final roster after all

The Vikings lost their quarterback on Tuesday, and perhaps any hopes of playing in the pos...
Pernell McPhee could start the year on the PUP list

The Vikings' backup quarterback is 36-year-old Shaun Hill, who last started an NFL game in...

Mark Sanchez could land in Seattle and Brandon Weeden could be headed back to Big D