Chargers sign Joe Flacco's brother, among 17 rookie free agents
Mike Flacco, the brother of Ravens quarterback Joe Flacco, was among 17 rookie free agents signed by the Chargers over the weekend.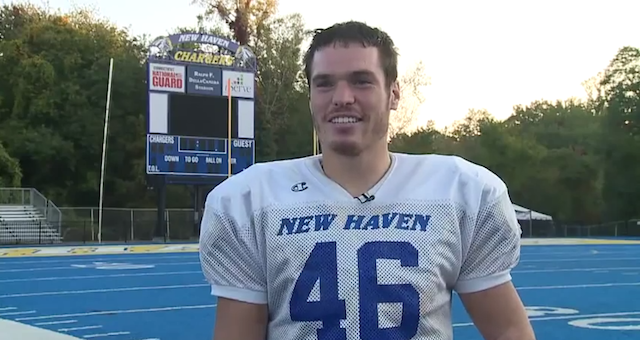 Draft coverage: Picks and grades | Prospect Rankings | Sam goes No. 249 | News
It might not be as exciting as a 'Manning Bowl,' but the NFL could get its first 'Flacco Bowl' in 2014. The Chargers announced over the weekend that they've signed rookie free agent Mike Flacco. If Flacco makes the team, he'll be reunited with his brother Joe on Nov. 30 when the Ravens host San Diego. 
The 27-year-old Mike Flacco took the long route to the NFL. Flacco spent four seasons playing minor league baseball in the Baltimore and Boston organizations before deciding to switch over to football last year.
Flacco spent the 2013 college season at Division II New Haven where he earned third-team All-American honors after catching 30 passes for 591 yards and nine touchdowns as a tight end.  
The Chargers also signed cornerback Chris Davis. If that name doesn't sound familiar to you, you might remember him as the guy who did this at the end of the Alabama-Auburn game back in November. 
Show Comments
Hide Comments
Our Latest Stories
Scott Mersereau played for the Jets from 1987-93

The Vikings' future at quarterback is unclear due to Teddy Bridgewater's health

The Browns, 49ers and Jaguars have the most cap room, with the Pats not far behind
Bennett, who is a free agent this offseason, isn't wrong

The Buccaneers quarterback's message to elementary school students went off track

Bill Belichick would probably prefer for his QB to find other ways to relax this offseason