Chargers training camp: Front seven on defense could raise alarm
Even violating personal policy, it's hard not to push the panic button after the beating the Chargers took against the Seahawks, preseason or not.
• 8 min read
More NFL: Photos |   Videos & GIFs |  Stories | Training Camps |  Manziel watch 
I generally make it a point to never read too much into any preseason games, and I've learned over the years to avoid blanket statements about teams based primarily on what I witnessed during camp or an exhibition game ... But after watching the Seahawks' utter domination of San Diego's defense Friday night in Seattle, I was tempted to ignore my own best advice.
Now, a few days removed from the carnage, I'd like to think I am writing this with a little more clarity and less emotion. Though it was difficult to observe the first half of football on display at CenturyLink Field -- when it was starters against starters and looked like, well, men against the boys -- and not start to panic a bit about the state of San Diego's defense. So I'll remind myself that the stadium, loud and filled, had the appearance of a regular-season game, with the Seahawks playing before their home fans for the first time since winning the Super Bowl. And it was clear the home team came out inspired to put on a little show for them, which included the starters playing extensively despite jumping out to a big early lead and having their way with the Chargers on more or less every play from scrimmage.
So I'm not going to go nuclear on the Chargers defense -- just like I'm not willing to write off the Giants' offense after their pathetic displays to this point in the preseason -- but I will be watching this group closely in September to see if they are able to hold up their end of the bargain and manage to keep things close. San Diego's offense will in all likely have to carry a heavy burden if another trip to the playoffs is looming this winter. Let's just say I'm a little concerned.
This was a beating in every sense of the word. When Russell Wilson faced a free rusher, or scooted outside the pocket, it was ugly. He carved up the defense at will, eluding ends and linebackers and was nearly perfect passing the football. When Wilson kept the ball and ran, the Chargers had no response, and he scored twice easily on the ground. And the Chargers were unable to remotely contain whomever Seattle trotted out there to run the ball in the first half, with Robert Turbin rolling up 80 yards and a touchdown, including a 47-yard foray in which he ran over and away from people. Christine Michael started doing the same thing when he entered the game.
In all the Seahawks, in four first-half possessions, rolled up 24 points and 260 yards (they averaged more than seven yards per play from scrimmage). They amassed 17 first downs. They rushed for 144 yards in these four drives, averaging 7.2 per carry. They exploited the Chargers in the screen game, found plenty of intermediate stuff, too, and Wilson was barely touched. Of course, there wasn't much agro blitzing and the Chargers were playing short-handed and pretty vanilla, but this was every bit as ugly as the numbers would indicate
The good news is that much of this might be injury-related ... which is also the bad news in that so many players they are counting on defensively have yet to take the field much, and this is rarely a sport in which individuals gain strength and health through the arduous regular season. Perhaps there is solace to be had in that what the Chargers believe will be their best 11 defenders have yet to come close to playing any significant minutes together yet as a unit, though, again, that's also less than idea as we head into the dog days of August.
The Chargers lost linebacker Manti Te'o, who suffered another foot sprain in the loss, after missing a big chunk of the preseason as a rookie. Starting defensive tackle Sean Lissemore left the game early with an ankle injury and the team isn't offering much of a timetable on a return. Safety Jahleel Addae, who had been impressing with his camp thus far, left with a hamstring injury and never returned. And Dwight Freeney, a key 2013 free-agent signing who has yet to play a regular-season snap for the club, has not appeared yet this preseason working his way back from last summer's torn quad. Plus, first-round pick Jason Verrett (shoulder) hasn't been able to see action in a preseason game yet either.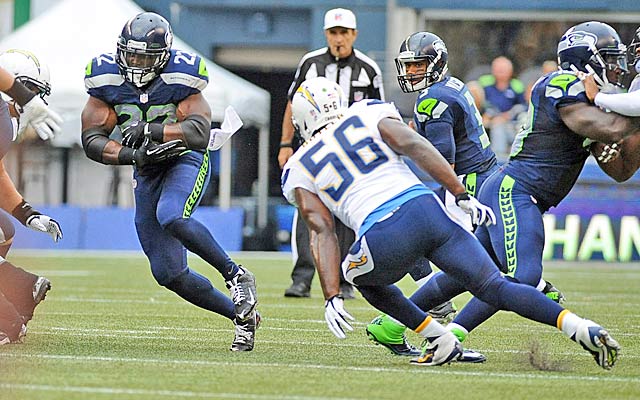 However, general manager Tom Telesco assured me that both players are coming along very well and the Chargers are hopeful of having contributions from both soon enough. So, perhaps, reinforcements are on the way.
On Freeney, Telesco said: "I'm happy with where he is right now. That was a pretty serious injury he had last year, and we didn't know, No. 1, if he could come back from it. And, if he did, No. 2, where he'd be physically. But he's worked every day in camp except for the rest days we gave to lot of the veterans. So far so good. The bigger thing is to see how much volume he can take, but he takes great care of himself and he's a future Hall of Famer and his body heals differently than others. So we'll see. But he's focused, I know that, and he keeps going. We still have a little ways to go, but it's pointing positively right now."
As for Verrett: "He's working almost every day, he's just not full-full yet. But he's had a lot of reps on the field and he's in football shape, which is good, and he's getting the mental reps, which he needs. Now he has to get out on the field and do it, and we're trying to slowly ramp him up without pushing him too fast."
I'm concerned about the lack of natural pass rushers here, with Melvin Ingram and Corey Liuget having to produce excellent seasons if this front seven is going to hold up. There are only so many holes that can be plugged in a short period of time.
The reality is Telesco and Mike McCoy, a rookie head coach in 2013, did tremendous work to have this team punch above its weight in many respects last season. The roster they inherited had become old, and was littered with failed draft picks, and the schedule will be tough this season with the NFC West teams waiting. Given the fact this will never be a team that makes major noise in free-agency, it's going to take more time for the team to get where it wants to be.
There still seem to be a fair number of skeptics when it comes to the Chargers, and that seems to suit them just fine. They just might make everyone look silly again this season, but if they do it will take a markedly more consistent and potent defensive output from what they have displayed thus far this summer.
"I think our guys still have a chip on their shoulder to show that last year is not an aberration," Telesco said, "and that's big. We could tell in the offseason program that guys were dialed in. It wasn't like, 'We ended the year great last year and we're just going to pick up where we left off.' We want that attitude where everyone came in and it was like, 'We have to show everyone we can do this again.' "
More Chargers
• I'm a little amazed that at a time when so much noise has been made about potential quarterback contract extensions -- from Ben Roethlisberger to Colin Kaepernick to Andy Dalton to Alex Smith, that nothing is made of Philip Rivers' situation with the Chargers. Rivers has two years left on his deal, set to make $13.8M this season and $15.57M in 2015. The Chargers want him around beyond that from everything I'm told, but much like Big Ben, Rivers is going to have to play it out this season. The Chargers are expected to initiate contract talks with him after the season, sources said, and the goal would be for him not to be playing out a lame duck year on his current contract.
• As much as I have expressed trepidation about the Chargers' defense, there is an area where I believe they could be much improved -- the secondary. Eric Weddle is a stud and they bolstered things by signing Brandon Flowers when the Chiefs cut him, and he already knows this division quite well. Of course, if they can't get a pass rush or stop the run up front, problems will persist, but to look at where this team was a year ago, just trying to find bodies capable to filling a roster at corner and safety, to now, it's a position of relative strength on the roster for sure.
"We've got three safeties we really like that are interchange in different spots between Weddle and Marcus Gilchrist and Jahleel Addae," Telesco said, "and at corner last year at the end of the year Richard Marshall and Shareece Wright were playing pretty well and we draft Jason Verett and we feel great about that, and then we had a chance to add Brandon Flowers, so that gives us four legit guys there, so we feel good about that as well.
• I don't have much concern at all on the offensive side of the ball for several reasons. McCoy has things well under concern there, his work with Rivers was the most critical development of 2013 and with the veterans now a full-year immersed in that offense, this team will score points. McCoy was also pretty brilliant in how he brought along quarterbacks coach Frank Reich a year ago, knowing that former offensive coordinator Ken Whisenhunt might be back to head coaching come 2014. McCoy had Reich call plays some last preseason getting him even further groomed to take over as offensive coordinator and I expect that to be a seamless transition with Whisenhunt now head coach of the Titans. Reich is very, very good and has potential head coaching chops, himself.
"The bar is set very high on offense and we feel really good about Frank Reich," Telesco said. "Ken Whisenhunt did an extraordinary job last year, and the offense was Mike and Ken and Frank really getting it together and I don't anticipate us missing a beat this season."
Show Comments
Hide Comments
Sometimes it's hard to figure out what the Bills are doing

Peterson would join a formidable backfield that includes Mark Ingram and, of course, Drew...

John Schneider has a simple rule: He doesn't like lying to people
Kizer, the former Notre Dame standout, is one of the top QBs in the draft class

Can the Browns get it right? Can the Cowboys and Raiders build dynasties?

The versatile safety/linebacker could slip out of the first round