Chargers WR Keenan Allen high-hurdles into end zone
Chargers wide receiver Keenan Allen jumped over a Broncos defender and than ran over another one on the way to a 19-yard touchdown on Thursday.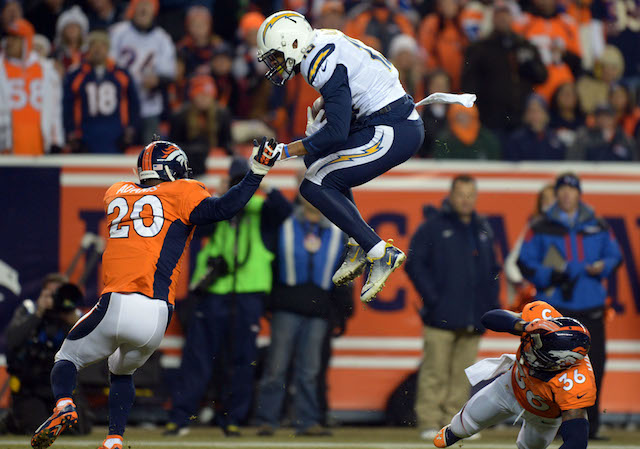 Chargers wide receiver Keenan Allen just moved one high-hurdle touchdown closer to taking home the offensive rookie of the year award. 
In the second quarter against Denver, Allen took a short pass from Chargers quarterback Philip Rivers and turned it into a 19-yard touchdown. Only Allen didn't have a clear path to the end zone, he had a few obstacles in his way that the had to jump over. 
As you can see below, Allen jumped over Broncos defender Kayvon Webster and then ran through Denver safety Mike Adams to get the score. 
(Wink of the CBS Eye to gifdsports and Buzzfeed Sports)
Show Comments
Hide Comments
Carson Wentz might be the No. 2 overall pick, but he's currently No. 3 on the depth chart

The 36-year-old quarterback is still looking to latch on with a team for the 2016 season

Will NFL scouts be as excited about Hurd as his size, speed and production suggests?
The Packers quarterback is a big fan of the Sherriff

Anthony Davis wants to return to the 49ers after taking a year off

Schneider is expected to be one of the two highest paid general managers in the NFL