Chip Kelly: Eagles would listen to offers for Mark Sanchez
If you're an NFL team in need of a veteran quarterback, call Chip Kelly. He might be willing to part with Mark Sanchez for the right offer.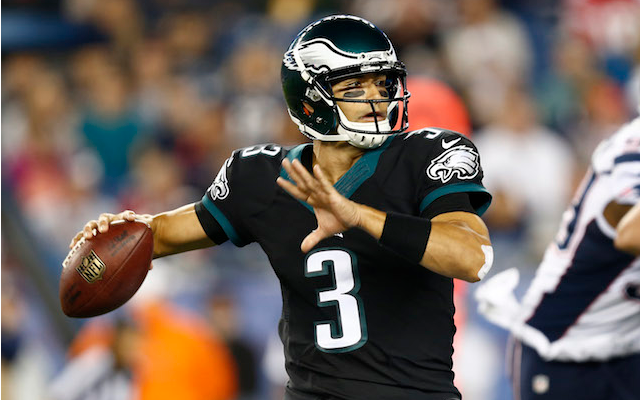 More NFL: Photos |  Videos & GIFs |  Training Camp updates | Manziel watch
If there was a preseason MVP award, Eagles quarterback Mark Sanchez would probably be in the running. Through two games, Sanchez has completed 18 of 22 passes for 196 yards and two touchdowns.
Those numbers include an 11-of-12 performance in a 42-35 loss to the Patriots on Aug. 15. Sanchez's impressive numbers led to a reporter asking coach Chip Kelly if the team would consider trading Sanchez if another team was interested.
"I mean, we'll listen to anything for anybody," Kelly said Sunday. "We're not going to bury our head in the sand and say no. But it better be a pretty good deal in terms of what it is. But that's not any of our thought process. We need him. In terms of how he's playing right now, how he can function in what we're doing, and I've always said you need to have two quarterbacks."
Although Kelly did say the team would "listen," he did add that no one has called the Eagles about acquiring Sanchez. 
"Mark has played well, but we haven't had anybody call and ask us anything, so that's not something we're talking about," Kelly said. "We're spending time with things that could happen, should happen, I don't know. But we're really happy about him. I feel very, very confident in our quarterback situation, probably better than a lot of teams in this league going into it because I think we have two guys right now that have actually played in games. Mark has 68 games on his resume and is playing at a really high level right now. Obviously, Nick is coming off an outstanding season last year, so we feel really confident. But I'm also a big guy that you better have two quarterbacks in this league. So unless something blows you out of the water, we're really confident with Mark coming and starting the game for the Eagles."
As CSN Philadelphia noted, the weird here isn't that Kelly said the team would listen to offers, it's that Kelly answered the question at all. In just over 18 months as the Eagles coach, Kelly hasn't been accommodating when it comes to answering hypothetical questions.
The bottom line here seems to be that unless the Eagles are blown away by an offer, Sanchez will be in Philly in 2014, meaning he can keep filming his teammates in the trainer's room while they take baths. 
Show Comments
Hide Comments
The Notre Dame coach clarifies his earlier comments about his former quarterback

The Cowboys owner says he's better now than ever

Sometimes it's hard to figure out what the Bills are doing
Peterson would join a formidable backfield that includes Mark Ingram and, of course, Drew...

John Schneider has a simple rule: He doesn't like lying to people

Kizer, the former Notre Dame standout, is one of the top QBs in the draft class