Chip Kelly: 'I like' DeSean Jackson but will do 'what's best' for Eagles
Meeting with the media Wednesday, Chip Kelly said 'I like' DeSean Jackson but added that the Eagles will do 'what's best for the football team.'
More NFL offseason: Mock Drafts | Prospect Rankings | Pro Days | Top free agents
ORLANDO, Fla. -- Trade and roster rumors surrounding DeSean Jackson have been rumbling heavily for the past few weeks. The Eagles wideout seemed destined to leave Philly but after talking with Chip Kelly earlier this week he sounds confident he'll stay.
Not so fast, my friend. Kelly, speaking at the NFC owners' meeting on Wednesday, didn't sound quite as sure.
"I like DeSean. DeSean did a really nice job for us," Kelly said. "But we're always going to do what's best for the organization."
The part about Kelly liking DeSean is key. The general consensus is that Chip grew tired of Jackson's act and didn't feel he was a fit in the Eagles locker room. Kelly dispelled -- or at least attempted to dispel -- that notion on Wednesday, saying he had "no issue" with Jackson.
Kelly also claimed Jackson, who's believed to want more money, never came to him or Howie Roseman seeking a new deal, but he did tack on a curious "talked to reporters" caveat that stuck out a bit. 
"DeSean never came to me or came to anybody and said I want a new contract," Kelly said. "He talked to reporters, but he never came to us and said I want a new contract."
Kelly did go to Jackson though, and the coach confirmed the two had a "conversation" though he declined to offer any specifics about their discussion. 
"We had a good conversation," Kelly said. "We're always going to do what's best for the football team. I think he knows where we are, and I know where he is. I feel very comfortable about it. My conversations with him aren't things I need to have a conversation with anyone else about."
On the football field, there's no question about the fit. Jackson's the primary deep threat and their number one weapon in the Eagles passing game. The speedy receiver caught 82 passes in 2013 for 1,332 yards and nine scores, easily the top number for the Eagles in each category. 
But Kelly isn't going to let the offense's need for Jackson sway his feelings one way or another. He stated Wednesday that his system isn't "predicated on one player," another hint that Jackson could ultimately find his way out of Philly. 
If Tuesday's revelation that Jackson and Kelly met certainly put some cold water on a possible departure, Wednesday did the complete opposite. Maybe Jackson ends up being an Eagle in 2014 after all, but Kelly hardly stumped for that possibility during his media session.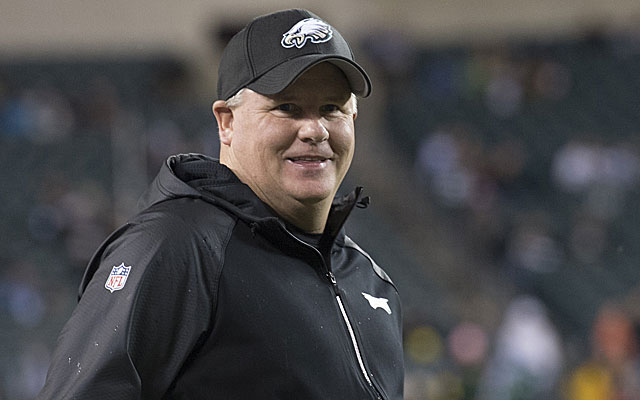 There is a large list of quarterbacks signed before Colin Kaepernick

The Olympic skier has been all over Aaron Rodgers' Instagram

Cowboys fans could be on the verge of hearing what will happen to the star running back
Even a Giants player has to admit the Cowboys look pretty good

The oft-troubled cornerback is once again suspended by the NFL

McDermott is replacing notorious defensive specialist Rex Ryan in Buffalo for the head gig