Chip Kelly responds to wedding invite from Eagles fans
If you're having a wedding on May 10, don't invite Chip Kelly because his calendar is booked.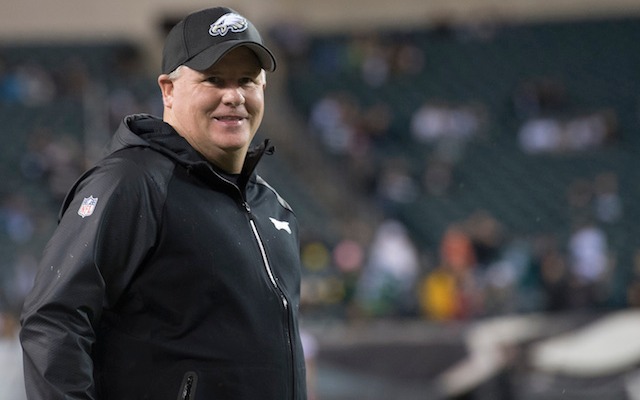 If you want Eagles coach Chip Kelly to attend your wedding, don't plan it the same weekend as the NFL Draft.
Two Eagles fans in Philadelphia invited Kelly to their May 10 wedding, but as you can see in the RSVP below, Kelly can't attend because he has something else going on that day. 
Chip Kelly can't go to an Eagles fan's May 10 wedding because he has 'the draft that weekend.' (via @Eagles) pic.twitter.com/YAdNSWUNqz

— John Breech (@johnbreech) March 31, 2014
Thomas Froschle and Maryanne Goslee, the couple getting married, don't seem too disappointed that Kelly can't make it to the event, they're just excited he answered the RSVP, "We weren't really expecting anything. It was almost like a gag, really," Froschle said of sending the invite, via the Eagles official website. 
The fact that Kelly can't attend is actually Roger Goodell's fault because the May 10 wedding was scheduled before the 2014 draft was moved. The draft has been held in April since 1986.  
Froschle and Goslee are serious Eagles fans and that's something everyone at their wedding will quickly realize, "The tables are all decorated as Eagles players, and we're also setting up a Chip Kelly table," Goslee said. "We're coming out to the Eagles fight song too, so it's getting pretty intense."
That means if you're one of the lucky ones attending the Froschle-Goslee wedding and you're not an Eagles fan, you may want to brush up on the fight song. You can practice learning the words below. 
The pass rusher thinks he is being misused by Kansas City

The legendary Rams running back wants to see Sean Mannion play instead of the No. 1 pick

A 911 call from the Uber driver sounds pretty terrifying
The Falcons quarterback thinks more checks and balances could have helped Atlanta

The HOF will not stop the Juice from showing up at the ceremony to honor the new inductees

Raiders fans are probably going to be jealous of Tiger's pool table