Chip Kelly's vision arrives in SF and that's just what the 49ers need
If there's one takeaway from Chip Kelly's introductory press conference it's this: Kelly isn't changing after his stint went wrong in Philly. He's bringing his complete vision to San Francisco.
• 5 min read
SANTA CLARA, Calif. -- Chip Kelly, the same Chip Kelly who won 10 games in both of his first two seasons as the Eagles' head coach, the same Chip Kelly who failed to survive his third winter in Philadelphia, the same Chip Kelly who alienated enough of his ex-players to field an expansion team, officially arrived in San(Francisco)ta Clara on Wednesday.
Hired last Thursday, Kelly formally introduced himself to reporters, those who sat in the front-row reserved seats, and whoever else tuned in from afar. But Wednesday's press conference didn't really serve as an introduction. Rather, it allowed Kelly a chance to re-introduce himself.
Chip is still Chip. He's still a "football guy" who didn't hesitate to point out the difference between a read-option and a zone-read when a reporter misidentified one for the other. He's still uncompromising in his vision. San Francisco isn't getting the version of the movie that has been cut to pieces by an overbearing studio. It's getting the director's cut. Because Kelly's not changing his identity -- past results be damned.
"I don't know if I can be significantly different," Kelly told a scrum of reporters after the press conference. "I think you have to be yourself in terms of how you do things."
That might be exactly what the 49ers need.
Let's rewind the clock for a moment. Almost exactly a year ago, the 49ers were beginning a slow decline. After spending three straight seasons chasing Super Bowls, Jim Harbaugh's team won eight games in 2014. Tangled with members of the front office, Harbaugh bolted for Michigan and the 49ers let him. That slow decline ended in a trainwreck the instant the 49ers selected Jim Tomsula as Harbaugh's successor, from the moment his introductory press conference began and his bumbling interview ended.
Is that unfair to Tomsula? Probably. The roster was gutted of much of its talent this past offseason. And press conferences and interviews aren't the best way to judge a head coach.
But Wednesday's introductory press conference certainly felt different than last year's, probably because, this time, much-maligned owner Jed York and general manager Trent Baalke hired a coach who once inherited a four-win team and immediately turned it into a 10-win playoff team -- using his vision.
"This was a fairly easy decision," Baalke said. "He's a well-rounded, highly innovative coach with a proven track record of success at every level of competition, including the NFL."
Baalke's not wrong here. Kelly is a proven winner at every level. Yes, that includes the NFL, where he won 20 games in his first two seasons and boasts a .553 career winning percentage, even after his horrific final year. For context, consider that Tom Coughlin has a .531 winning percentage in his 20-year career.
Don't be mistaken, Kelly is certainly flawed. There's no denying that. But he's not the failure that some folks try to make him out to be. Need an indicator of just how much the perception has swung against Kelly? He actually had to dispute a reporter's claim on Wednesday that he might be "borderline crazy."
But, when he was asked if he had a chance to evaluate "where things went wrong," even he seemed to acknowledge the gravity of his mistakes that killed the Eagles.
"Because I got fired, I look at it more like an autopsy," Kelly said. "So I'm in the middle of the autopsy right now, still looking at it -- sent some toxicology reports out."
Based on previous reports, Kelly might want to examine his people skills and ability to form healthy working relationships. After the Eagles canned Kelly, CBS Sports NFL Insider Jason La Canfora reported that Kelly's inability "to relate to most people on a human level" might've played a role in his demise.
And that made Wednesday's press conference especially stunning. When Kelly was asked why it took nearly a week for this press conference to happen, he cracked that he has "been known to run a really slow offense," so he just "wanted to set the tone for how things are going to be here in San Francisco."
You might be human after all, Chip.
After, I asked Baalke if he was at all concerned by those reports. He told me, "You saw him today. ... I have no doubt that he has the people skills to be successful in this business -- none."
Kelly passed the eye test Wednesday, but his second stint as an NFL head man won't be judged by what happened in an introductory press conference. Just like how Tomsula's mangled mumbling isn't what doomed the 49ers. But the difference here is that Kelly also has experience winning with his brand of football -- that is, when his vision is limited to coaching and not handling all matters related to the 53-man roster.
Here's the good news: This isn't Chip's roster to trade away. Baalke's in charge and Chip knows it, saying he wants "to just coach football."
And, ultimately, that's what it'll come down to -- that's how Kelly will be judged. He has often served as a punchline with his smoothies and sports science, but as Kelly noted, nobody is going to rip his nontraditional approaches as long as he wins with them. That's why it makes sense for Kelly to do it in his own way, because even if he adopts a more traditional coaching style, that won't stop the criticism from mounting if the 49ers win six games next season.
In the end, it always comes down to winning -- regardless of how you do it.
"I think wherever you win, then culturally you're going to fit," Kelly said. "In our first year, when we won the NFC East, it was a real good situation. And then when we didn't win a enough games in my last year, it wasn't a good situation. So it's about winning and being productive. It's a results-oriented business."
In other words, nobody is going to care if Kelly skips the 49ers' Christmas party if he has already clinched a playoff berth by mid-December.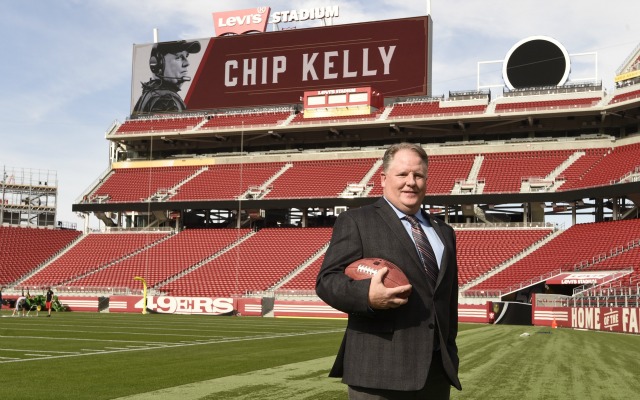 Show Comments
Hide Comments
Here's everything you need to know about the 2017 NFL Draft

Marshawn Lynch might not ever take off his Raiders' helmet

Where does your team need the most help? Check out this team-by-team breakdown to find out
Hernandez's third suicide note remains a mystery

Beast Mode seems like he's going to be a popular guy in the Raiders' locker room

The Browns might go quarterback and not take Myles Garrett No. 1 after all