Chris Kluwe, Vikings reach settlement, money to charity
Chris Kluwe reached a settlement with the Vikings and won't sue them, with the team team donating money to charity the former punter said.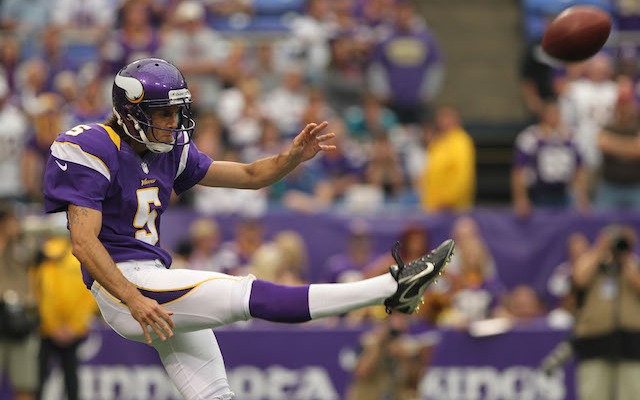 Chris Kluwe and the Vikings have reached a settlement that will avoid a lawsuit from the former punter directed toward the team.
Kluwe threatened the team with a lawsuit claiming he was booted in some discriminatory fashion but will "absolutely" not go forward with it after this settlement, his lawyer told Tom Pelissero of USA Today. 
"The parties intend to hold a joint press conference early next week to make public the terms of a settlement arrived at late last night," Clayton Halunen told Pelissero. 
Despite that claim from Halunen, Vikings spokesman Jeff Anderson told Pelissero "nothing is finalized and conversations continue."
Kluwe claims his 2013 release from the Vikings was a result of discrimination based on his outspoken opinions and personal beliefs, and also claimed in a letter to Deadspin.com that Vikings special teams coach Mike Priefer made him feel "uncomfortable" with things he said in the locker room. 
"I felt uncomfortable each time Mike Priefer said these things," Kluwe wrote. "After all, he was directly responsible for reviewing my job performance, but I hoped that after the vote concluded in Minnesota his behavior would taper off and eventually stop."
Priefer was suspended three games by the Vikings for his behavior and will have to donate $100,000 to LGBT charities.
Kluwe tweeted a series of notes about the settlement from his, ahem, always active Twitter account:
We've reached a settlement with the Vikings. Terms I can disclose as follows.

— Chris Kluwe (@ChrisWarcraft) August 19, 2014
1. They will donate a substantial amount to five charities, several MN local, over the next five years.

— Chris Kluwe (@ChrisWarcraft) August 19, 2014
2. They are implementing enhanced training within the entire organization, and are committed to a zero tolerance policy on homophobia.

— Chris Kluwe (@ChrisWarcraft) August 19, 2014
3. The Vikings will be working to create a symposium to bring together sports and LBGTQ leaders in order to address this issue in sports.

— Chris Kluwe (@ChrisWarcraft) August 19, 2014
Show Comments
Hide Comments
Our Latest Stories
Not everyone was happy about the move to Sin City

The Raiders are leaving for Vegas and the team's owner doesn't want any ill will if possib...

Giants receiver Brandon Marshall was the only player invited to speak at the NFL owner's m...
This rule is probably going to have to change now that the Raiders are headed to Sin City

The NFL is rolling the dice on Sin City, despite a last-ditch attempt from Oakland's mayor...

The Chargers are leaving 70,000-seat Qualcomm Stadium for the 27,000-seat StubHub Center