Chuck Noll's death inspires a multitude of Twitter tributes
After the news of Chuck Noll's death was broken Friday night, many took to Twitter to express their respect for him.
• 1 min read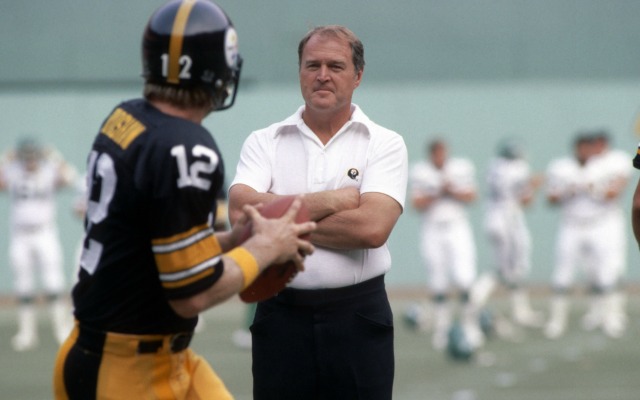 Chuck Noll, one of the greatest coaches in NFL history, died Friday at the age of 82. And even though the news broke late Friday night and went into early Saturday morning, the Twitter tributes came fast and heavy.
Here is a sampling of what Noll's fans had to write.
Hall of Fame @steelers coach Chuck Noll passes at 82: http://t.co/hNG0wij6OY #RIPChuckNoll pic.twitter.com/qIyCvYwNad

— NFL (@nfl) June 14, 2014
As a Pittsburgh kid born in 1973, his passing hurts me deeply...damn, I probably wouldn't be doing what I do for a living without Coach Noll

— Matt Williamson (@WilliamsonNFL) June 14, 2014
Got to cover one of Chuck Noll's final games, vs. DAL on Thanksgiving '91. Made sure to ask a question because I knew I was seeing a legend.

— Bart Hubbuch (@HubbuchNYP) June 14, 2014
Chuck Noll's advice 1/2 : "When you're making an important life decision, make sure it's without regard to money, title or position ...

— Chris Wesseling (@ChrisWesseling) June 14, 2014
Chuck Noll's advice 2/2: "Make sure it's about who you're going to be working with and how much you'll enjoy being there."

— Chris Wesseling (@ChrisWesseling) June 14, 2014
Sitting at the same table as Chuck Noll in the #steelers training camp cafeteria was just about the biggest thrill of my 14 yr old life #RIP

— Sigmund Bloom (@SigmundBloom) June 14, 2014
Hard as it is to believe, Chuck Noll was underrated by so many, despite the fact that he remains the only head coach to win 4 Super Bowls.

— Alby Oxenreiter (@albyox) June 14, 2014
RIP Chuck. You had such a positive impact on many people's lives. It was an Honor and a Blessing to follow in your footsteps. Thanks Coach!

— Bill Cowher (@CowherCBS) June 14, 2014
Chuck's legacy of excellence will forever be an important part of the history of the Steelers & the NFL.

— Roger Goodell (@nflcommish) June 14, 2014
Our flag is at half-staff today in honor of @steelers coach Chuck Noll. http://t.co/t2jYdPnADT #RIPChuckNoll pic.twitter.com/EW5cZsn7pt

— Pro Football HOF (@ProFootballHOF) June 14, 2014
Truly, Noll was a man who was loved.
Show Comments
Hide Comments
Our Latest Stories
If he does get dealt, Sherman thinks the Seahawks will miss him when he's gone

Plus O.J. Howard cracks the top 10 and the Patriots trade back into the first round in this...

Cousins fired a football at a cardboard box to reveal the gender of his and his wife's forthcoming...
It's reportedly Houston or retirement for No. 9

Michigan, California and BYU held pro days on Friday, with Davis Webb fighting a 'torrential...

Peterson's reported asking price would make him the NFL's second-highest paid running back...