Cody Wallace fined $7,875 for giving Randy Starks the business
Steelers C Cody Wallace has been fined $7,875 for giving Dolphins DL Randy Starks the business during Sunday's game.
Steelers center Cody Wallace has been fined $7,875 for doing this to Dolphins defensive lineman Randy Starks Sunday: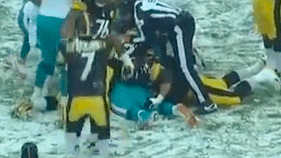 So yeah, it appears that Wallace is giving Starks an impromptu prostate exam. Except Wallace actually made the case Wednesday that it was all a big misunderstanding.
"I was trying to get under the pile and get a hand on the football,'' he said several times, according to the Pittsburgh Post-Gazette's Ed Bouchette. "Unfortunately, I didn't get low enough. As soon as I realized what was happening, I definitely stopped. It's unfortunate it looks that way and came out that way. ...
"I thought I was going to be able to get under there and I wasn't able to and I wasn't able to get a hand on the football," said Wallace, adding that he figured out Starks' butt wasn't a football "when he kind of started kicking around, I realized I wasn't going to make it there."
Save your breath, man. Nobody -- media, fans, the blind, the NFL -- bought it.
Wallace was also fined an additional $10,000 for unnecessary roughness for hitting a Dolphins player after the whistle. Put another way: In the NFL's eyes, giving another player the business at the bottom of a pile isn't nearly as egregious as a late hit.
Show Comments
Hide Comments
Four defensive backs are picked in the final five spots of the first round in Rob Rang's final...

The last version of Will Brinson's 2017 NFL Mock Draft sees the Chiefs land their new franchise...

Character has become such a concern for draft prospects that scouts spend a majority of their...
Also, expect Haason Reddick to go higher than expected and Reuben Foster to be taken on Th...

Plus the Cowboys and Steelers find new cornerbacks late in the first round in Dane Brugler's...

The league appears fully prepared if the Browns decide to pull off a few unexpected trades