Colts get serious protecting the franchise, young quarterback Luck
The most precious NFL commodity is a franchise QB. The Colts are smart in mobilizing to protect young star Andrew Luck after a big-hits rookie season.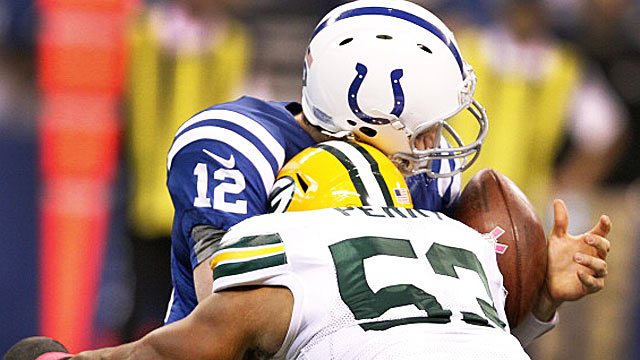 ANDERSON, Ind. -- If you had a porcelain vase worth millions, would you let the kids play tackle football in the living room next to it?
That's essentially what the Indianapolis Colts did with their multi-million-dollar work of art last year. They let far too many hands gets on Andrew Luck. And helmets. And shoulder pads. And anything else a quarterback can take from a defense.
At times, it was downright violent the way Luck took shot after shot.
"But you know what," Colts veteran receiver Reggie Wayne said, "he didn't complain one time. As a player you respect that. He took one shot against Green Bay where I thought they were going to have to come scrape him up. He hopped up and said not to worry about it. He was fired up. He is one quarterback I know who takes a lick and gets fired up about it. Guys respect that."
Luck, though, took way too many hits as a rookie last season. After being the No. 1 overall pick, succeeding Peyton Manning as the Colts quarterback, Luck spent the year working magic on the field as he took a pounding from opposing defenses. He led the Colts to a surprising 11-5 record and a playoff appearance. He was magical at times in the fourth quarter, pulling out some amazing comebacks. At times, you had to wonder how he was still standing.
"I think getting hit is part of the game," Luck said. "A lot of the hits I took last year were my fault. Obviously, it's a team game and that's what makes football so much fun. A big part of football is getting up after those hits. It's my job as a quarterback to keep on playing after getting hit."
Opposing defenses sacked Luck 40 times. If not for his feet, it might have been double that. He was pressured on nearly 40 percent of his drop-backs, which is way too high. It didn't help that Luck threw it 627 times as a rookie, and dropped back 730 times to throw it. The Colts were behind a lot, which necessitated throwing the football. But there were other reasons for the hits.
Among them:
•  The offensive system. Under former coordinator Bruce Arians, the Colts were a deep-throwing team. Arians believed in seven-step drops and big passes down the field.
•  A bad offensive line. The Colts spent and drafted to improve the line this offseason in large part because Luck was hammered last season. They could have as many as three new starters on the line, including free agents Gosder Cherilus and Donald Thomas.
•  The defense wasn't good. That unit gave up 387 points and the Colts were forced to play from behind a lot.
Add it all up, and you get sacks and interceptions. That's the amazing thing about Luck's season. Despite all the success, he had nearly as many incomplete passes (288) as he did completions (339).
Maybe that's why when I asked Luck about whether he looked back on the bad and the good from the season, he kind of smirked.
"More of the first," he said "There were a lot of plays I wished I had back."
Luck finished the season throwing for 4,374 yards and 23 touchdowns. But he also was picked off 18 times and had a completion percentage of only 54.1. To put that completion percentage in perspective, Mark Sanchez had a better percentage in 2012.
"There's a lot to improve on," Luck said.
It will start with a new offense. Arians left to become the head coach of the Arizona Cardinals. He was replaced by Pep Hamilton, who was Luck's quarterbacks coach and offensive coordinator at Stanford.
Hamilton is more of a West Coast offense guy, although it's not strictly that style. One thing the Colts will do is run the ball more, and they've added a fullback. Coach Chuck Pagano is big on helping to take the pressure off of Luck with some balance.
"We have to run it better," Pagano said.
Hamilton watched a lot of Luck's games last year on TV and would often text or call after them. He would often tell him to play a lot smarter, which meant sliding or throwing it away. He watched the Colts play Jacksonville on a Thursday night, and then sent Luck a text to see if he would be coming to Palo Alto to watch Stanford play that weekend.
"He was exhausted," Hamilton said. "He was beat up. He said he had to stay back in Indy and take a break, and get some rest."
Luck is excited about the new offense, but he said he enjoyed learning Arians' offense too. That's who he is, a football junkie. While most of his teammates have their heads spinning to learn the new offense, he is as comfortable as he's been. He knows it well, and it's showed already on the practice field.
The idea behind the system is to get the ball out quicker and run it better. That might mean we see less of Luck outside the pocket, at least in terms of pure running. Scrambling to throw is a lot safer.
"But running for a big first down a game is huge," Luck said. "It's important to be able to move. I still have to do that."
Said Wayne: "He's a big dude, bigger than a lot of people think and he's given us something I have not seen in 12 years with Peyton, and that's a quarterback who can scramble. His moving around helps keep the chains moving."
Hamilton, who has worked with Luck since the quarterback was 19, said Luck's on-field demeanor has to change some.
"He's got a linebacker's temperament once the game starts," Hamilton said. "You have to tone that down at times. In college, he would tell me early on he's ready to take that first hit. You don't want to take that approach in the National Football League of course."
Hamilton summed why up best with one sentence.
"He is the franchise," Hamilton said.
So protect that hell out of that valuable asset. Priceless things aren't meant to be broken.
Show Comments
Hide Comments
Whaley was on borrowed time, and now Sean McDermott gets his best shot at building a winne...

The Cowboys owner maintains that Gregory has the organization's full support

No teams did bad enough to earn an 'F,' and give credit where it's due to the 49ers(!) and...
The expectation is that Whaley will be replaced with the Panthers' Brandon Beane

Plus Seahawks eschew needs on the line and Rams seek help for Goff as we hand out NFC West...

Plus Saints and Falcons load up on defense as NFC South gets a massive boost in talent