Colts TE Coby Fleener fakes dunk over crossbar after TD
Dunking over the crossbar can be expensive, so Colts tight end Coby Fleener did something that won't get him fined: He fake dunked it.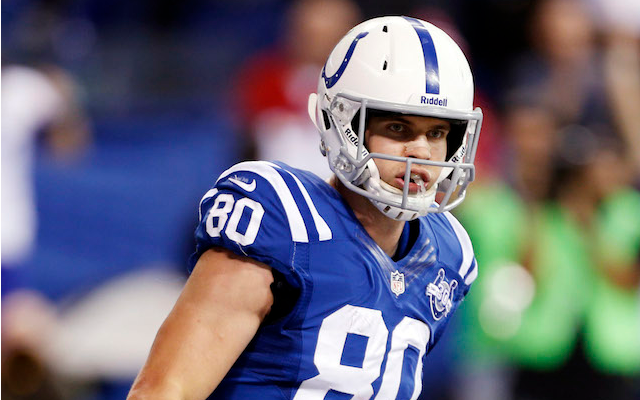 Dunking over the crossbar isn't allowed in the NFL anymore, so Coby Fleener did something slightly different on Saturday: He fake dunked over the crossbar. 
After catching a 21-yard touchdown pass from Andrew Luck, Fleener walked up to the crossbar like he was going to dunk it. The ref then stared Fleener down, as if he was daring Fleener to dunk it. 
THEN BLUE THE COLTS MASCOT runs over, as if to say, "Don't do it Coby! Don't get fined for a dunk! We could use that money on oats and hay or a new costume for me!"
In the end, Fleener offered a pump-fake and didn't dunk it, so he won't have to worry about getting a $30,000 fine like Jimmy Graham did for his two touchdown celebrations last week. 
Show Comments
Hide Comments
NFL teams find out their schedule on the same day you do

There probably weren't too many complaints in Kansas City after the schedule was released

Glen Coffee is hoping to make an improbable NFL comeback
Geography can be hard sometimes

Hernandez appears to have left suicide notes for at least three different people

Beast Mode and the Raiders apparently don't see eye to eye on this one thing