Compromise was the best course for Saints tight end Jimmy Graham
Jimmy Graham won't be paid like an elite wide receiver, but he's getting a deal far better than what he would have gotten if he hadn't compromised.
• 7 min read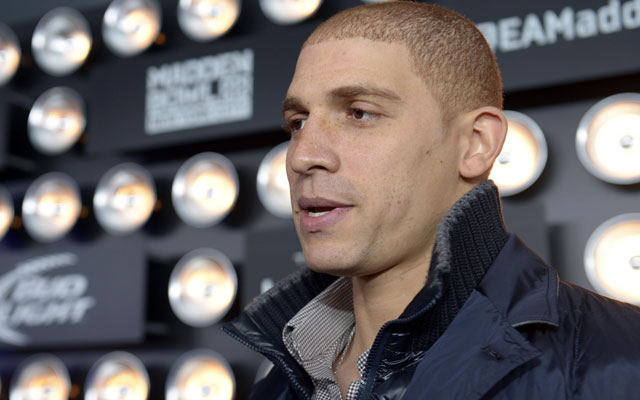 More NFL: Photos |   Videos & GIFs |  Stories | Training Camps | Manziel watch 
Jimmy Graham didn't have many options.
Once he lost his grievance over whether he is a tight end or wide receiver for the purposes of the franchise tag, the Saints had all of the leverage.
Graham had a simple decision.
Was it worth playing well below market value -- for a $7 million tight end tag in 2014 -- while seeking a deal worth more than $10M a season, and praying he doesn't get hurt, knowing all the while the Saints could franchise him again in 2015 and still not be paying him close to $10M a year? Or, would he go ahead and cut a deal around the $9.5M a year the team had on the table, and take uncertainty out of the equation and give up on his hope of being paid like a top five wide receiver (over $12M a year)?
When you take into consideration the fact that Graham, despite being an All-Pro performer for several years now, had earned just $665,140 in signing bonus money and roughly $2.3M total through his first four NFL seasons, and given what a huge moving target he is and the kind of physical abuse that started to compound on him in the 2013 season, it became something close to inevitable that he would eventually take the best deal on the table around that Tuesday deadline to finalize an extension. Otherwise, he was playing for that tag with no future guaranteed money, and perhaps headed for a messy divorce from New Orleans at some point.
So, in the end, it was about compromise (which is the hallmark of many a negotiation). Could he earn more than $10M a season on the open market? I certainly believe so. The Saints could make the point that no one tried to sign him to an offer sheet, but obviously having to give up two first-round picks had everything to do with that. If Graham was an unrestricted free agent, I think he could command a deal similar to the $12M a year that Mike Wallace pocketed from the Dolphins, if not more.
In the end Graham settled for being the highest-paid tight end in league history and has a shorter-term deal (four years max), which allows him to perhaps get one more big day before his career winds down. That's significant. And he gets $12M in his pocket today and knows he will make $21 million over the first two years of the deal -- significantly more than he would have earned if he played two years on the franchise tag.
As for the Saints, they get to avoid setting any major new salary threshholds, they will now have Graham's rights for the first eight years of his career, and, assuming he even maxes out this new contract, will have paid him about $43M, or an average of $5.4M a year. That's a steal. And, even paying him $10M a season in the final year of this new deal, once young receivers like A.J. Green and Julio Jones and Demaryious Thomas continue to push the boundaries of what pass catchers are paid, will continue to look like a bargain. And if for some reason Graham's knees give out or something terrible happens health-wise, the team isn't making any fully guaranteed commitments beyond 2015, anyway.
So, it's a win-win for the most part. The idea of Graham appealing Stephen Burbank's ruling is a moot point. Smiles all around.
But I can't help but wonder just how different the tone would have been had Graham prospered with his grievance. The Saints would be in salary-cap hell, Graham would have a ton of leverage and little reason to give up his pursuit of a deal more in the $12M-$13M range. Franchising him two years in a row would have cost New Orleans more that it perhaps could have afforded ($12.3M in 2014 and then $14.8M in 2015), a whopping total in excess of $27M.
Certainly, Graham would have had every reason to refuse to play for less than $13M a year. I can't help but wonder if the Saints would have seriously pursued a sign-and-trade of sorts, and I tend to think that had Burbank ruled differently (and that decision been upheld on appeal -- because there most definitely would have been an appeal), that Graham's tenure in New Orleans would have ended up being much briefer than anyone could have imagined.
Seeing Graham continue to catch balls from Drew Brees in an innovative offense devised by offensive genius coach Sean Payton makes an awful lot of sense. As football fans, we're the big winners, ultimately, I suppose. Well, except for those who cheer for other teams in the NFC South. I wouldn't expect Burbank to be getting many Christmas cards from Falcons, Panthers or Bucs fans, or the NFLPA for that matter. NFL owners, however, especially those who might have a Julius Thomas or a Jordan Cameron on their roster, well, they have every reason to celebrate that decision, and Graham's subsequent contract. It's a huge victory for them.
Things about to change in Baltimore
The Baltimore Ravens have generally been a veteran team afforded the ability to police their own locker room, afforded certain luxuries and perks that winning teams earn over time, dating back to Brian Billick's tenure running the team. After a fifth arrest this offseason -- this time Jimmy Smith interfering with officials trying to tend to an acquaintance of his passed out in the women's bathroom of a popular bar/restaurant (and one that happens to be walking distance from our house) -- I'd expect a more draconian bent to their training camp.
John Harbaugh certainly has a disciplinarian streak, one he isn't afraid to flash when need be, and having spent time during OTAs discussing with him the run of bad behavior a growing number of his players have exhibited (punctuated by Ray Rice's public domestic abuse case), I can only imagine his reaction when he got the call that Smith, a recent first-round pick who the team felt like was primed to join the elite corners in the league this season, had been the latest to be handcuffed. He was fuming.
I wouldn't be surprised in the least to the see the law-abiding majority of his roster bear the brunt of the missteps of a group of mostly young teammates who have exhibited some horrible judgment at times (and in Rice's case, much worse). I wouldn't expect much in the form of league discipline for Smith -- the team still awaits word on the extent of Rice's forthcoming suspension -- but as an organization the Ravens can no longer view these incidents through any sort of isolated prism. The arrests have become a daily topic of conversation in Baltimore, and not just among sports fans, and I have a feeling some things are about to change.
Some of the creature comforts and autonomy this veteran group are used to might be going away. Earlier bed checks, and a much shorter leash than the Ravens are used to could become the norm. At some point, perhaps soon, a player or two is going to get cut for off-field issues, I suspect, and I wouldn't be shocked if some of the offenders aren't with the team when the season starts; not stalwarts like Rice and Smith, but the message will be sent somehow, through someone, since Harbaugh, a strong communicator who puts extensive thought and prep into his remarks to the team, hasn't managed to curtail the transgressions just yet.
Anything but a pushover, I have a suspicion this ends up being a fairly grueling camp for the Ravens, with the backdrop of their offseason of arrests still very much on the minds of many.
Training camps ahead
• I'm trying to finalize my training camp itinerary -- it's a doozey -- and saving my trip to Florida for the end. Looking forward to seeing how the young Bucs and Jags come together in August. Both of those teams could make major gains this season. The more I look at the Bucs the more I think maybe they duplicate what the Panthers did a year ago. I believe in Josh McCown.
• I don't hear much movement at all in the attempts of Andy Dalton and Alex Smith to get new deals. I wouldn't be surprised if they ended up playing out their respective contracts. They are very tough deals to figure. Neither team is willing to commit with the kind of money franchise quarterbacks are getting these days, which starts around $18M a year, and establishing a second or third tier of salaries isn't easy at this position. Smith already did one band-aid deal, and I continue to hear that Dalton isn't keen on a short-term bridge contract either (and looking at the money Colin Kaepernick and Tony Romo and Jay Cutler are banking, I wouldn't blame him). So short of that, gambling on themselves and playing it out, a la Joe Flacco, might be the best option.
• There remains no motivation, or inclination, for the Texans to deal Andre Johnson, holdout or not. If he really wants to sit out the season, so be it, but the compensation the Texans would receive for him wouldn't likely make any deal worth it, and after capitulating to Johnson in the past I continue to get the feeling Houston won't be doing do again.
These seven players aren't household names, but don't be surprised if they make noise in 2...

Bell certainly looks like he'll be ready for the 2017 season

Whether Beckham is at OTAs or not, he remains one of the league's best players
The Chiefs were one of the league's winningest teams during Dorsey's tenure as GM

Aaron Rodgers, Matt Ryan, Kirk Cousins and others have new deals on the horizon

The star receiver said he would put his collection up against anyone in any sport.