Could Jets, DE Muhammad Wilkerson be on collision course?
As Muhammad Wilkerson is set to enter his fourth NFL season, he likely will be looking for a new contract.
• 1 min read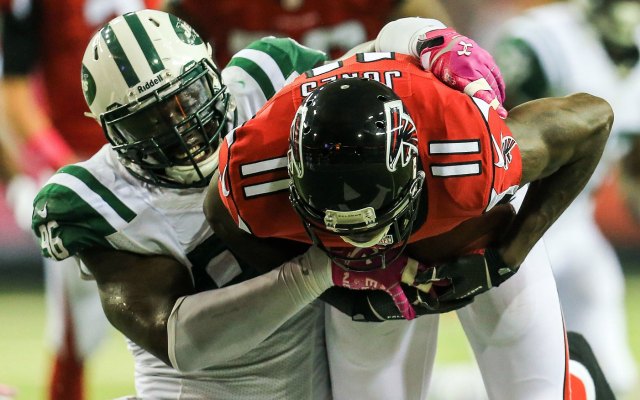 As players from the draft class of 2011 get closer potential contract extensions, we've begun to hear rumblings about potential holdouts. Like Cardinals cornerback Patrick Peterson, who said he wouldn't mind getting his contract restructured before he enters the fourth year of his rookie deal.
Likewise, Jets defensive end Muhammad Wilkerson -- drafted No. 30 overall and scheduled to make about $1.3 million in 2014 -- wants a new deal. And though he hasn't said anything publicly, the New York Post posits that there could be a conflict coming between the team and one of its biggest defensive stars.
The Jets could pick up an option on his fifth year by May 3, meaning they would have to pay him about $6 million in 2015 instead of immediately giving him a brand-new contract or allowing him into the free-agent market. That probably would risk alienating Wilkerson, but for future planning purposes -- or to stall for time to complete a new long-term deal term -- that might be the best bet for the team.
Writes the Post: "The Jets could hold onto Wilkerson ... for $7.2 million over the next two years -- a bargain. If you want to take it even further, they could franchise tag him in 2016 at a number that will probably be about $12 million. So, three years at $19.2 million and the Jets would have controlled the first six years of Wilkerson's career. Neither the Jets nor Wilkerson's camp is saying anything right now. But in talking to people around the league the expectation is the Jets [and nearly every other team] will exercise the fifth-year option and then negotiate with the players."
If you think this is just another example of how the new CBA screws with the wallets of the younger players, well, you're probably correct.
If players decided to hold out in order to get new contracts, they would face fines of up to $30,000 per day.
But Wilkerson and Peterson aren't the only ones who will face this conundrum. The 2011 draft class, as a whole, will face these questions until they either receive -- or don't receive -- their second NFL contracts.
Follow Josh Katzowitz on Google+
Show Comments
Hide Comments
Our Latest Stories
Polian compared Owens to a problem child and called out Moss' effort level

Brown racked up 1,284 yards and 12 touchdowns this past season

The Browns get the best player in the draft and a QB project, while O.J. Howard heads to the...
The pass rusher has notched 50 sacks in his career

Bell racked up 1,884 yards from scrimmage in 12 regular-season games

Short has 17 sacks in the past two seasons