Could the Broncos end up going with Robert Griffin or Colin Kaepernick?
The Broncos' have some reported interest in Robert Griffin III and Colin Kaepernick. And it actually makes sense.
The most fascinating storyline of the NFL offseason is the Broncos' quarterback situation. Despite being fresh off a Super Bowl 50 win, John Elway is in a precarious spot when it comes to the most important position on his roster. 
We know Peyton Manning won't be back. Peyton and his dad said as much leading up to Denver's win against the Panthers. Also: common sense. The Broncos' decision to wait on negotiations with would-be starter Brock Osweiler for Manning's retirement (or non-retirement) announcement is curious, though. 
Osweiler, drafted in 2012, is a free agent this offseason. If Manning pushes his decision up against the March 9 contract deadline, it could send Osweiler into the open market. (Given the status of Von Miller and Malik Jackson, using the franchise tag on Osweiler doesn't feel likely.)
You can't predict a quarterback on the market, particularly with about 10 teams in need of a quality signal caller. Osweiler's price tag could become prohibitive and that's how things could get real weird for Elway.
The result of Manning retiring and Osweiler being involved in a bidding war with multiple teams (Cleveland? San Francisco? Houston?) could mean a project/upside/reclamation move like Robert Griffin III or Colin Kaepernick.
Troy Reneck of the Denver Post tweeted as much last week. 
Most fascinating twist will be if Osweiler's market explodes. Would #Broncos go after project like RG III or Kap? I never rule anything out

— Troy Renck (@TroyRenck) February 12, 2016
There's some sensibility -- and additional smoke to the idea of Griffin in Denver. On Wednesday Benjamin Allbright of AM 1340 in Denver reported the Broncos are "discussing [the] possibility" of RG3.
Just texted to me: #Broncos discussing possibility of RG3 if money gets prohibitive to keep Osweiler.

— Benjamin Allbright (@AllbrightNFL) February 15, 2016
The sensibility comes from the knowledge Griffin has of the offense. Most people think of RG3 and Mike Shanahan and remember either the Redskins quarterback crumpled to the floor of FedEx Field or sniping with Shanahan during an ugly public exit while being benched for Kirk Cousins (the first time). 
But Gary Kubiak's offense is grounded in what RG3 ran for Shanahan in Washington (Kubiak was offensive coordinator when Shanny coached Elway to two titles). 
Take an athletic passer who can throw on the move with a strong arm and good touch on the deep pass and you've got something cooking in what Kubiak likes to run, particularly if you've got a good defense. RG3 checks the boxes.
Kaepernick does as well, although the caveats of his decision making being questionable and him lacking touch need apply. 
The Broncos' best case is probably a weak market for the lanky Osweiler plus an early signing of Malik Jackson and a franchise tag for Miller. Get the gang back together. But if worse comes to worse, Elway can always gamble on someone like Kaep or Griffin.
He's won a Super Bowl with worse.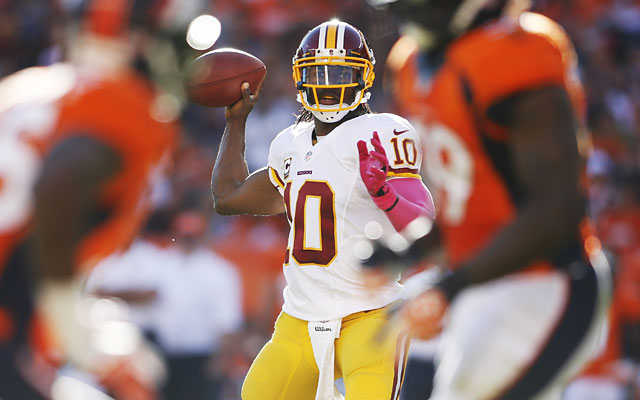 Show Comments
Hide Comments
Our Latest Stories
Credit Mike McIntyre for developing the talent needed to catch scouts' attention in this t...

The Browns quarterback took to Twitter to discuss his personal life

Broncos GM John Elway doesn't sound like he has any regrets about letting Brock Osweiler get...
The Division-III left tackle transfer is quickly proving he has a future in the NFL

Clay Matthews and Morgan Burnett join Sam Shields as out, while two others are now doubtfu...

The former NFL wide receiver has some strong opinions on the commissioner