Cowboys OL Doug Free gets lit up by Raiders DE Ryan Robinson
Sometimes being offensive linemen isn't easy. Cowboys right tackle Doug Free found that out in the third quarter on Thursday.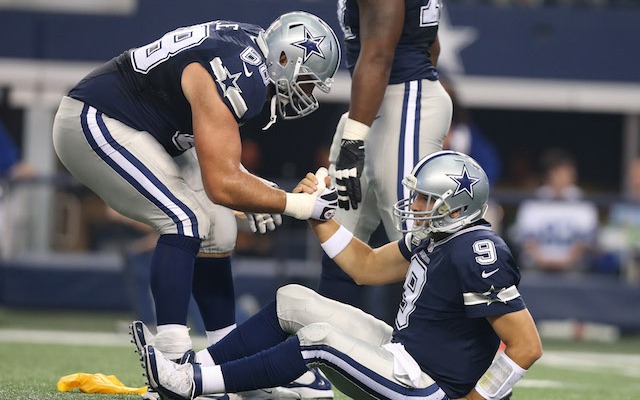 When Cowboys offensive lineman Doug Free watches film from the Raiders game, there's one play he might want to avoid watching and that's the play below. 
With the Cowboys facing third-and-13 from their own 10-yard line, Free was rushed by Raiders defensive end Ryan Robinson and as you can see below, Robinson got the best of free. Actually, Robinson did more than get the best of free, he knocked Free three-yards back and made himself the instant frontrunner for the coveted 'Bull rush of the Year' award that I just made up now.  
Unfortunately for Free, the rest Cowboys offense is probably going to want to watch the play over and over because Dallas converted the third-and-13 when Tony Romo hit Terrance Williams for a 14-yard gain. 
Things didn't get much better for Free on the drive either: A DeMarco Murray eight-yard touchdown run was called back because Free was called for holding. The drive worked out for the Cowboys though because Dallas was able to score two plays later on a Romo to Dez Bryant four-yard touchdown pass. 
(Wink of the CBS Eye to one of the handsomest men to ever handsome Tom Fornelli)
Show Comments
Hide Comments
Our Latest Stories
Blount is about to hit free agency, but the running back would love to stay in New England

Cutler, who arrived in Chicago in 2009, has almost certainly played his last game for the...

The decision to bring on the greatest coach of all time wasn't met with a standing ovation...
The Patriots owner sounded off on the Super Bowl, Deflategate and much more

Brees might be 38 years old but he's still among the NFL's best passers

Maybe the police are taking the jersey theft more seriously than though