Cowboys owner Jerry Jones on NFL team in London: I'm very much for it
If the NFL ever decides to move a franchise to London, Cowboys owner Jerry Jones sounds like he's completely on board.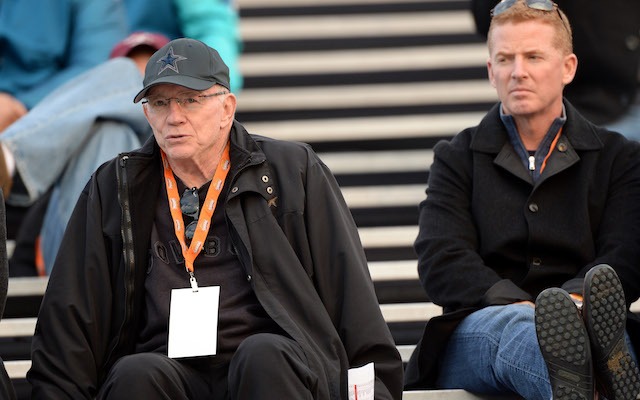 The Dallas Cowboys will be heading to London in 2014 to play the franchise's first regular-season game outside of the country. However, it might not be the last time Dallas plays in England, especially if London gets its own NFL team one day, something Cowboys owner Jerry Jones said he is in favor of. 
In an interview with Skysports.com this week, Jones was asked his thoughts about the NFL possibly putting a franchise in London: "I think that's very possible and I'm very much for it," Jones said.
The 2014 season will mark the eighth straight year that the NFL has played a regular-season game in London. The international series started in 2007 when the Giants beat the Dolphins. In 2013, the series was expanded from one to two games. For 2014, the series has been expanded to three games. 
"These games will be a good indication of the type of support that we could have there," Jones said. "London is one of the few cities outside of the United States that would be a great city internationally for the NFL."
Dallas is one of six teams playing in London in 2014. Jacksonville will host the Cowboys at Wembley Stadium in Week 10. The first game of the 2014 international series will be in Week 4 when the Raiders host the Dolphins. 
The third game in the series will feature something new: Sunday morning football. The Falcons will host the Lions at Wembley in a Week 8 game that will kick off at 9:30 a.m. ET. 
By the way, if you're wondering what the uniform for a London-based NFL franchise would look like, the staff here at Eye on Football tried to answer that question once. You can see what we came up with here. 
Show Comments
Hide Comments
Romo is set to call games for CBS Sports this fall, but the Cowboys are keeping the door o...

Can Roberto Aguayo, the Bucs' maligned second-round pick, beat out Nick Folk?

John Mara says Colin Kaepernick's protest led to a ton of letters from emotional fans
These 11 players could have a Dwight Freeney-type impact for the right team

Last week, Mark Davis revealed that he had refunded and re-sold about 1,000 tickets

Vick's legacy with the franchise that drafted him remains complicated