Cowboys sign Michael Sam to practice squad
The Cowboys signed Michael Sam to their practice squad on Wednesday.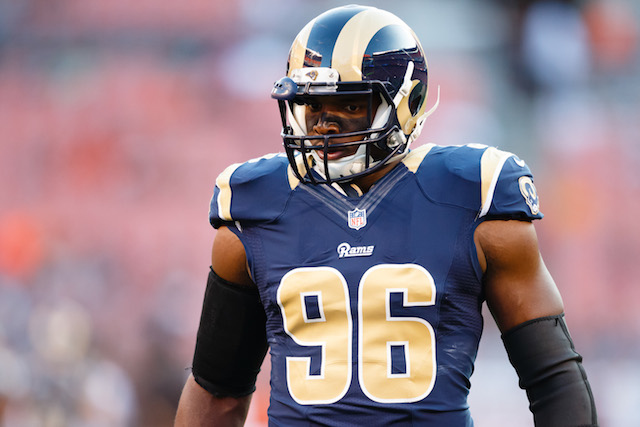 The Cowboys made it official and signed Michael Sam to their practice squad on Wednesday.
It was reported on Tuesday evening the Cowboys would bring in Sam for a physical and if he passed said physical, he'd be a part of the practice squad.
Sam, the first openly-gay player on an NFL roster, was drafted by the Rams in the seventh round of the 2014 NFL Draft. 
He recorded 2.5 sacks in the preseason -- one that was, ahem, money and one that was a little more luck -- and generally played well but didn't look like a complete defensive player in his time with the Rams.
St. Louis also has the deepest pool of talent on the defensive line, likely of any team in the NFL. It was always going to be hard for Sam to make the roster.
He cleared waivers and generated plenty of chatter about why he was really remaining a free agent. But the Cowboys -- who are in dire need of pass rush help -- silenced those concerns quickly.
"None of that matters, I'm excited to be to be joining Dallas, I just want to play football, it's great to be heading back to my home state," Sam told MailOnline on Tuesday from the airport. "It's been a roller coaster this past week but I'm happy where I'm at now.
"I'm just looking forward to being a Cowboy, my focus is on making the team."
The move by the Cowboys is, obviously, generating tons of attention. Jason Garrett, in his press conference on Wednesday, did his best to 
"We just want to give him a chance to come in and see if he can help our football team," Garrett said. 

Sherman thinks that all quarterbacks on all NFL teams get treated better than anybody else

The Patriots coach looks pretty cool on the 15th anniversary cover of Nantucket magazine

Taco Bueno has been angling for a deal with Charlton ever since he was drafted
Jeff Garcia, Jimmy Clausen and Justin Forsett explain their involvement in American Flag Football...

The Panthers added more playmakers to take some of the pressure off Newton this season

Young has been out of the NFL a while but still feels slighted when other quarterbacks get...