Crabtree Achilles injury a big issue for 49ers, especially Kaepernick
Losing Michael Crabtree to an Achilles injury puts added pressure on second-year starter Colin Kaepernick, who figures to see better schemes on top of losing a top target.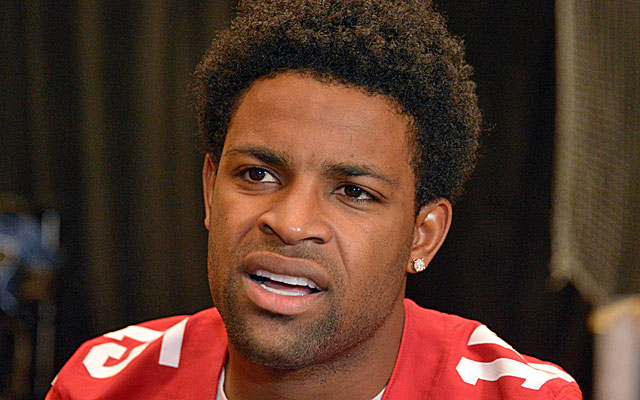 The San Francisco 49ers had a major setback Wednesday with the Achilles injury to wide receiver Michael Crabtree -- and the ramifications stretch well beyond whether the club needs to sign a veteran free-agent wide receiver.
Indeed, the first reaction might be to call Randy Moss, or work out the likes of Brandon Lloyd, Donte Stallworth or Steve Breaston. But I think the Niners might be fine going with the wide receivers they have for now -- though that could change after OTAs for GM Trent Baalke, who has done a great job of building this roster.
The big question marks at wideout: whether Mario Manningham and Kyle Williams can come back from ACL injuries. For the time being, A.J. Jenkins doesn't get any more time to develop -- he needs to go now. And fourth-round pick Quinton Patton will get lots of work. Patton caught 104 balls last year at 13.4 yards per catch with 13 touchdowns at Louisiana Tech last season.
But no matter what the Niners do to replace Crabtree, the real pressure is now on quarterback Colin Kaepernick.
Consider these events that could lead to a tough year for Kaepernick:
• Defensive coordinators have been studying him since the Super Bowl, where he was sacked three times and threw an interception. He will see schemes he's never seen.
• He lost tight end Delanie Walker in free agency. Walker was known as the glue of the protection schemes and was a help to Vernon Davis. Walker was targeted 39 times last year and scored three times but did a lot more than stats would indicate. There will be a lot of pressure on rookie tight end Vance McDonald.
• The loss of Crabtree. He was targeted 127 times with nine touchdowns last season and was the emerging star. Now, the Niners are faced with Jenkins stepping in and filling that void, and there's nothing to indicate he will. Kaepernick has now lost two of his top three targeted receivers from 2012; Crabtree and Walker accounted for 166 of his targets. If you throw in Moss, that's really 216 targets and 15 touchdowns.
• The loss of backup QB Alex Smith, who could lend advice in the classroom and on the sideline, leaving Kaepernick without a mentor. The huddle will not be the same for Kaepernick, and he may feel a bit alone on the field in 2013.
All of that puts more pressure on the defense to do even more this season than last year if the team wants to find itself in the Super Bowl again.
Show Comments
Hide Comments
Watson and Trubisky are considered two of the draft's top QB prospects

The former Patriots running back has been sitting on the open market all offseason

Maccagnan's family friends were killed in a domestic violence murder-suicide several years...
Foreman's son died less than two months after he was born

The future Hall of Fame running back is joining the Saints

The Notre Dame coach clarifies his earlier comments about his former quarterback