Cutler out vs. Ravens; Tillman to IR but can return for playoffs
The Bears announced Monday that QB Jay Cutler is week-to-week with a high-ankle sprain and CB Charles Tillman has been placed on injured reserve.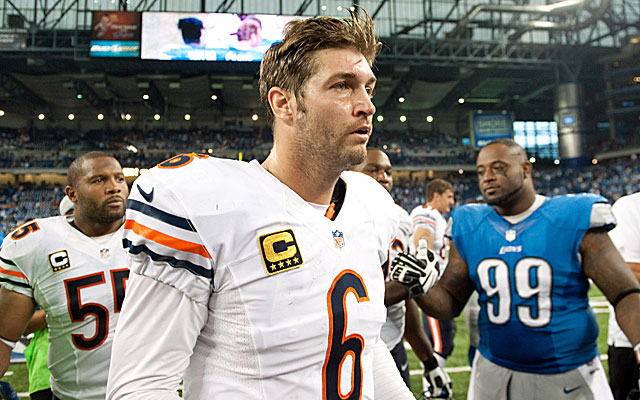 The Bears can't catch a break. After a 3-0 start that included Jay Cutler playing some of the best football of his career, the quarterback has come back to earth thanks in small part to a groin injury that forced him to miss the Week 9 Packers game. Cutler returned Sunday against the Lions ... only to suffer a high-ankle sprain.
Bears coach Marc Trestman said Monday that "it's safe to say" backup quarterback Josh McCown will start against the Ravens in Week 11. The team also announced that Cutler is week-to-week, which means that he could play in Week 12 ... or not. It all depends on how his ankle responds to treatment in the coming days.
There's more bad news: Cornerback Charles Tillman has been placed on injured reserve with a triceps injury. He's eligible to return to practice in six weeks and game action in eight weeks, which means he'll only play again this season if the Bears make the playoffs.
As it stands, Chicago and Green Bay are 5-4, one game back of Detroit in the NFC North. And while the Lions appear to be surging, the Bears and Packers have their franchise quarterbacks battling injuries. Put another way: Even if Cutler returns -- and returns to his early season form -- next week, Chicago will probably need to win five of its final seven games to have a shot at a wild-card berth. (The Panthers and 49ers, both 6-3, are currently first in line for the wild card.)
Tillman and Cutler are both in the last year of their contracts and it's fair to wonder if either will be back in 2014.
Show Comments
Hide Comments
The Packers running back is having second thoughts about his long hair

The Cowboys will once again be without their starting quarterback for an extended period of...

The Patriots not only have a guy who can win with Brady out, but should go 3-1 in his abse...
It sure seems like Fisher is leaning toward Case Keenum over Jared Goff to start the year

The Steelers' defensive end says he heals like a superhero and vows to be back for the ope...

Newton's Panthers scored on only one of the 10 drives he led during their third preseason...