Dallas, Fort Worth police announce no charges against Johnny Manziel
Johnny Manziel won't be charged by police after an incident with his girlfriend last Saturday.
• 1 min read
Despite the ugly alleged details that emerged from a Fort Worth Police Department report of Johnny Manziel's incident with ex-girlfriend Colleen Crowley, he won't be charged by Dallas police. The Dallas Police Department's investigation into Saturday's incident is closed, according to a written statement released Thursday night.
"The Dallas Police Department has conducted the appropriate investigative follow-up to the report forwarded to us by the Ft. Worth Police Department regarding an alleged incident involving Johnny Manziel. Investigative efforts to date have not resulted in the filing of a criminal complaint and the incident is determined to be closed. No further statement is expected at this time."
The Fort Worth Police Department also won't be charging Manziel, as the alleged offenses didn't occur in its jurisdiction.
On Johnny Manziel: Fort Worth PD said no offense occurred within city limits of Fort Worth. Dallas PD said no update on its investigation.

— Nate Ulrich (@NateUlrichABJ) February 4, 2016
Earlier on Thursday, the NFL said its investigation is still ongoing.
The #NFL investigation into the Manziel incident is ongoing and they are aware of the report, spokesman Greg Aiello said.

— Mary Kay Cabot (@MaryKayCabot) February 4, 2016
In the police report, which was released Thursday by the Fort Worth Police Department, Crowley alleged that Manziel struck her several times at a hotel in Dallas and during a car ride back to her Fort Worth apartment. After they arrived, Crowley said that she fled to a neighbor while Manziel left on foot. According to the police report, which you can access here via the Houston Chronicle, Crowley was "vague" when she described the details of the alleged incident and was "increasingly uncooperative," not allowing police to photograph her injuries.
This is the second incident involving Manziel and Crowley. In October, Manziel was involved in an alleged roadside altercation with Crowley. 
The former first-round pick and Heisman winner isn't expected to return to the Browns next season after two turbulent years with the team.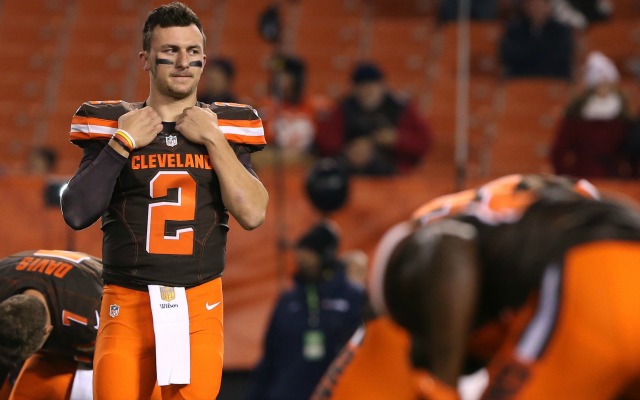 Show Comments
Hide Comments
Our Latest Stories
Players and coaches from both teams come together at midfield to hold hands

The 49ers don't provide an explanation in statement announcing the move

The Cowboys lineman reportedly has a torn ligament in his right foot
Ryan gets another shot to beat Belichick when the Bills and Patriots face off Sunday on C...

Ben McAdoo wants his star wideout to focus his energy on the game, not kicking nets

The ex-Cowboys DE is charged with possession of a controlled substance