Dallas Police: Johnny Manziel is a 'suspect' in 'ongoing investigation'
According to the Dallas Police, Johnny Manziel remains a suspect in an ongoing investigation but no determination has been made on whether or not he'll be arrested.
It's possible Johnny Manziel's on-field future is resolved before his off-field issues. The Browns quarterback remains under investigation by the Dallas Police Department, who confirmed Saturday he was a "listed suspect" in a Jan. 30 incident involving Colleen Crowley.
The DPD also said their investigation into Manziel remains ongoing and that there hasn't been any determination about potential charges being filed.
A spokesman said Saturday the department wasn't sure whether Manziel -- if he is arrested -- would be arrested via warrant or via a grand jury. And the detective on the case has neither spoken to Manziel nor finished gathering all the facts.
"We're letting the officer and detective do their due diligence. We want to make sure all the facts are there and clear and we'll present it to the prosecutors," the spokesperson said. "The detective hasn't gotten all the facts yet. She's still putting it all together. It's been two weeks since this investigation started and it is high profile and we realize you guys want to know what's going on. That's why we're out here today."
The full statement from the Dallas Police Department:
On February 5, 2016, Dallas Police Department began investigating a complaint of a domestic violence assault that occurred in Dallas on January 30, 2016, which Jonathan Manziel was the listed suspect.

Up to this point in the investigation, detectives have continued communicating with the complainant, interviewed witnesses, received medical records from the complainant, and obtained video from surveillance cameras.

Detectives are continuing with their efforts to fully investigate the facts of this case. As this remains an ongoing investigation, no details of the investigation will be released at this time. We would like to finish the investigation as soon as possible, but detectives work around the victim's and witnesses' schedules which can sometimes delay the process.

As of today, there has been no determination as to what type of charge, if any, will be filed against Mr. Manziel.
A report on Friday indicated the police had obtained medical records from Crowley relating to an alleged ear injury -- the statement doesn't confirm the acquisition of specific records but one assumes they're the same medical records in question.
Manziel's been involved in plenty of issues this offseason, with reports emerging about him showing up drunk to practice and then Manziel being involved in the late January incident with Crowley.
The police confirmed they were investigating the matter on Feb. 5 and have yet to resolve the investigation. At one point Dallas Police said they would not be charging Manziel with anything and the investigation was over. Clearly this is a full turn on that.
Manziel is likely to be cut by the Browns as soon as the new league year begins. It's entirely possible he becomes a free agent before the Dallas PD wraps up the investigation.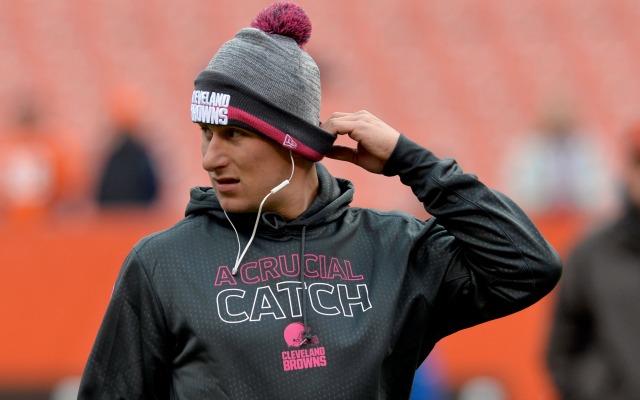 Show Comments
Hide Comments
Receivers surprise in the top 10, Alabama goes MIA in the top 15 and more 2017 NFL Draft t...

Florida State RB Dalvin Cook will kick off Day 2 of the draft

There were a lot of good moves made during the first day of the 2017 NFL Draft
It seems that fans in Chicago feel like the Bears may have gotten ripped off

Round 1 is in the books -- and here's a recap of all the rumors, picks, trades and analysi...

Here's everything you need to know about the 2017 NFL Draft