David Wilson: Fantasy owners, 'pissed' Giants fans 'irrelevant to me'
David Wilson thinks fantasy owners and 'pissed' Giants fans are 'irrelevant.'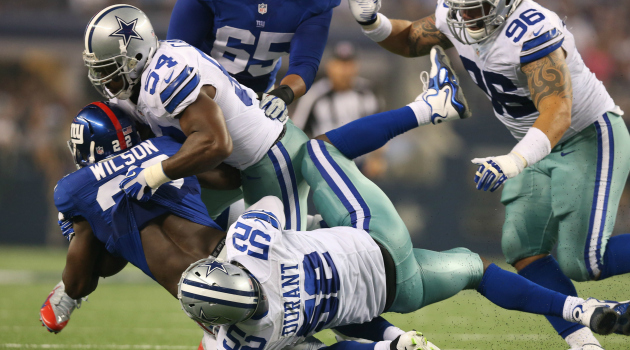 If you own David Wilson in your fantasy football league, you're probably not happy this week. (You also probably lost!) Wilson threw up a complete and total egg for the Giants on Sunday night, rushing for 19 yards and fumbling twice against the Cowboys before being benched by Tom Coughlin.
Things are so bad New York resorted to signing Brandon Jacobs. But even if Wilson put a negative 1.4 on your squad's scoreboard (ahem) or even if you're just a regular "pissed" Giants fan, please don't go complaining to him on Twitter. He doesn't like that.
Ayy to fantasy participants and pissed Giants fans ur irrelevant to me!!! Nobody wants me to succeed more than ME!!! WATCH US WORK!

— David E. Wilson (@4stillRunning) September 10, 2013
Wilson then also retweeted someone who responded to his Tweet with "TELL EM."
Part of me agrees with what he says. Fantasy owners and football fans have zero business hopping on Twitter and cussing out NFL players for not playing well. It's the lowest form of human communication, begging celebrities for retweets on your birthday aside. This stuff happens all the time and it's sad.
But Wilson's got to be more tactful about it. As a player in the NFL you don't need fans, but they're nice to have. Using the word "irrelevant" -- even if it's just in discussion of a few trolls from the old Interwebs -- won't do anyone any good.
Besides, it's not like it's only fans ripping Wilson. Tom Coughlin pretended to kind of have his back, but Antrel Rolle didn't really mince words saying that Wilson can "either get in the tank or man up."
And I bet Rolle doesn't even have him on his fantasy team.
Show Comments
Hide Comments
Conley, a first-round talent, has denied rape allegations that came to light this week

Lamps Plus and Charmin' are to the rescue for some smart endorsement money

Here's everything you need to know about the 2017 NFL Draft
Will Garoppolo be Tom Brady's backup in 2017 or will he be dealt Thursday?

Ben Roethlisberger, Alex Smith and Carson Palmer get youngsters to mentor in Prisco's final...

Plus Jonathan Allen falls further than expected and the Saints double dip in the secondary