Deion Sanders and Jim McMahon approve of Johnny Manziel's lifestyle
Deion Sanders and Jim McMahon, two players known for their off-the-field antics, don't see anything wrong with Johnny Manziel's lifestyle.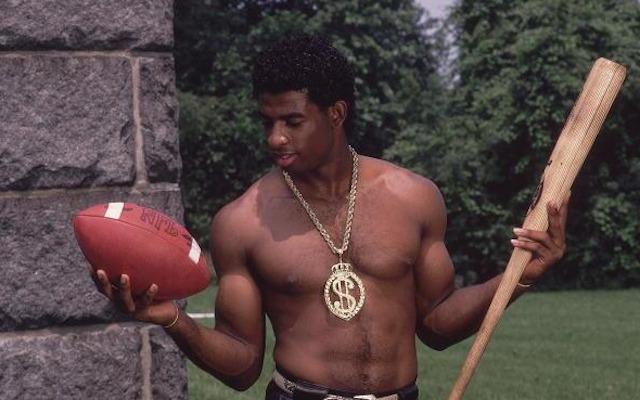 More NFL: Photos |   Videos & GIFs |  Stories | Training Camps | Johnny Manziel watch 
Long before Johnny Manziel was riding inflatable swans, there were other NFL players who drew significant off-the-field attention, and one of those players was Deion Sanders. In a recent radio interview, the Hall of Famer was asked about Manziel's partying and Prime Time said he approved.  
"The quarterback mold was created by Peyton Manning, Eli Manning, Drew Brees, Tom Brady," Sanders told 105.3 The Fan in Dallas. "When we don't see [partying] from those guys, we kind of think it's wrong because we don't see it. That does not mean that Johnny Manziel has done one thing wrong. We just haven't seen something of his kind. I like it. I love change."
Manziel spent some time this summer partying with Justin Bieber, but that doesn't mean Manziel's like Justin Bieber. Sanders said the two are different. 
"The kid hasn't done anything. They're putting him out there like he's Justin Bieber -- like he's egging folks on and doing wild and rich folks stuff," Sanders said. "He's not doing stuff like that. He's a good kid."
Another player famous for his off-the-field antics also approves of Manziel's ways. Former Bears quarterback Jim McMahon, who once mooned the media in the week leading up to Super Bowl XX, says as long as Manziel produces, he should do whatever he wants. 
"I read something a couple weeks ago where he said I'm not worried about what people say. And that's good for him. You can't worry about what everybody is going to think of you," McMahon told USA Today Sports. "As long as you're doing your job, it doesn't matter what you do off the field. As long you're playing between the lines, I don't care what you do."
In that case, Manziel has less than a week to get all of the partying out of his system because Cleveland's rookies report to training camp on July 23. 
Show Comments
Hide Comments
Pete Prisco grades every third-round pick of the 2017 NFL Draft

Kamara took a winding path to Tennessee but had a big senior year for the Vols

Pearson gave one of the best speeches you'll hear -- unless you're an Eagles fan
He was available for the Bengals due to concerns about off-the-field issues

Pete Prisco grades every second-round pick of the 2017 NFL Draft

Smith-Schuster will be a weapon as a possession receiver at the next level